MOUNT PIERCE & MOUNT EISENHOWER VIA CRAWFORD PATH
4000 Footer
DATE: Jul 09, 2022

END DATE: Jul 09, 2022

Hike/Event Location: Bretton Woods NH
Trip Leader(s)
MO
Lancaster, NH United States,
baezfred
Scarborough, ME United States
Meeting Time: 9:00 AM
Max # People: 10
Hike Guiding / Event Fee: No, I will not be asking participants for money
Hike Difficulty Level:
Moderate to Strenuous
(Do you qualify to attend with this hike difficulty rating? Click Here.)
Sign Up To This Trip/Event
You must be a least a guest member to participate. Comments such as "+1" or "bringing a friend" are NOT permitted. All participants must sign-up for the event individually.
Select your mode of transportation, make any comments and then click on button.
You are not logged in.
Please, Log In
Disclaimer: The club and its members take no responsibility and will not be held responsible for any injuries or accidents that may occur during club events. Outdoor sports are inherently dangerous and accidents will happen. By joining the club or participating in any events posted on our website you are taking responsibility for your own safety and well-being. Anyone with an internet connection can post a trip on our web site. It is your responsibility to determine if this person has the experience and competence to lead the trip. We do not certify or confirm the qualifications of any of our members to lead or participate in trips.
Summary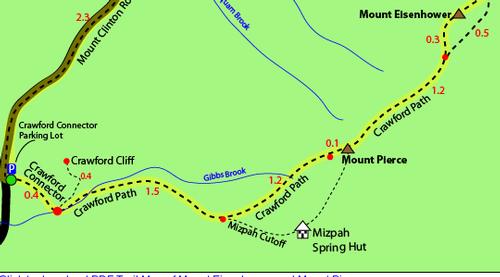 About the Hike:
This hike brings you to Mount Pierce and Mount Eisenhower – both summits are 4000-footers. They offer fantastic views, and are part of the Presidential Range. The ridge walk between the two peaks is spectacular.
The trail to Mount Pierce and Mount Eisenhower gains over 3,000 feet of elevation in about 5 miles.
We'll begin on the Crawford Connector Trail for 0.4 miles crossing over the Gibbs Brook foot bridge to the Crawford Path (part of the AT). We'll take a side venture to view Gibbs Falls (about 40 yards off the path). At the MIzpah Cutoff will bear right and stay on the Crawford Path. As we approach Mt. Pierce will take the Webster Cliff Trail for 0.1 mile to reach the summit of Mt. Pierce. We will then rejoin the Crawford Path on our way to Eisenhower. After approximately 1.2 miles we will take the Eisenhower Loop for 0,4 miles to the summit of Eisenhower.
Hike Type: out and back
Estimated Elevation Gain: 3000
Round Trip Distance: 9.8 miles
Estimated Duration (with breaks/lunch/pics): 7 hours
Directions To Trailhead Parking Lot
We will meet at the Crawford Connector parking lot.
FROM THE WEST : From the junction of Route 3 and Route 302 in Twin Mountain, NH, follow Route 302 East bound for 8.0 miles. Turn left onto the Mount Clinton Road. Take the first left into the parking lot. NOTE: if you went past the AMC Highland Center (on Route 302) you went a wee bit too far.
FROM THE EAST: As your travel on Route 302 West bound Mount Clinton Road will be on the right hand side of the road .20 miles past the AMC Highland Center (or roughly 3.0 miles West of the Willey House Historical Site.) Take your first left on Mount Clinton Road - then take the first left into the parking lot.
Trip Leader(s)
MO
Outdoor Fitness Level: Moderate to Strenuous
Lancaster, NH
United States
Online Status: OFFLINE
Last Login: 08/19/2022 10:38 PM
Member Since: 12/06/2016
baezfred
Outdoor Fitness Level: Moderate to Strenuous
Scarborough, ME
United States
Online Status: OFFLINE
Last Login: 08/18/2022 06:00 PM
Member Since: 02/18/2018
members signed up for this event
sustaining member
woodsman
Outdoor Fitness Level: Easy to Moderate
Newburyport, MA
United States
Online Status: OFFLINE
Last Login: 08/17/2022 05:30 PM
Member Since: 09/20/2011
Driving My Own Car


(Possibly willing to give guys a ride)
kammiller
Outdoor Fitness Level: Moderate
s. portland, ME
United States
Online Status: OFFLINE
Last Login: 07/02/2022 02:11 PM
Member Since: 01/18/2010
Driving My Own Car


(Possibly willing to give guys a ride)
Discuss This Trip/Event