BIKING AROUND OSSIPEE LAKE (NH)
Other
DATE: Aug 29, 2020

END DATE: Aug 29, 2020

Hike/Event Location: Center Ossipee NH
Trip Leader(s)
jonathanclark
Hartford, CT United States
Meeting Time: 10:00 AM
Max # People: 10
Hike Guiding / Event Fee: No, I will not be asking participants for money
Hike Difficulty Level:
Moderate
(Do you qualify to attend with this hike difficulty rating? Click Here.)
Sign Up To This Trip/Event
You must be a least a guest member to participate. Comments such as "+1" or "bringing a friend" are NOT permitted. All participants must sign-up for the event individually.
Select your mode of transportation, make any comments and then click on button.
You are not logged in.
Please, Log In
Hike Leaders can CLICK HERE to edit or delete this hike/event.
Disclaimer: The club and its members take no responsibility and will not be held responsible for any injuries or accidents that may occur during club events. Outdoor sports are inherently dangerous and accidents will happen. By joining the club or participating in any events posted on our website you are taking responsibility for your own safety and well-being. Anyone with an internet connection can post a trip on our web site. It is your responsibility to determine if this person has the experience and competence to lead the trip. We do not certify or confirm the qualifications of any of our members to lead or participate in trips.
Summary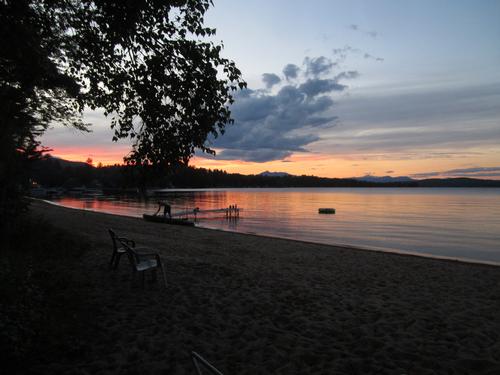 Please join me for a 35 mile late-summer ride around Ossipee Lake. The terrain is largely rolling countryside so not very hilly but you do need to be able to ride the 35 miles - there'll be no sag wagon. We'll depart from Center Ossipee, ride through Effingham and Freedom into West Ossipee and over to Tamworth Village where we'll have lunch at Tamworth Farmers' Market (or The Other Store cafe). Return via Route 16 to Center Ossipee and a swim in the lake for those who might want. The whole ride will be on paved or hard-packed surfaces so a road bike is fine. Please bring a helmet and water; towel and bathing suit if you might go swimming. We should be finished by 4PM.
Directions To Trailhead Parking Lot
TBD. We'll meet within a mile of the junction of Route 25E and Route 16 in Center Ossipee but I need to determine the exact meeting spot depending upon how many people sign up. I'll get specifics to everyone by Friday 28 August.
Trip Leader
jonathanclark
Outdoor Fitness Level: Moderate to Strenuous
Hartford, CT
United States
Online Status: OFFLINE
Last Login: 07/28/2020 08:54 PM
Member Since: 10/23/2008
members signed up for this event
tdefauw
Outdoor Fitness Level: Moderate to Strenuous
Plymouth, NH
United States
Online Status: OFFLINE
Last Login: 08/09/2020 04:48 PM
Member Since: 10/30/2001
Driving My Own Car


(Willing to give guys a ride)
jkelaghan
Outdoor Fitness Level: Moderate
Plymouth, NH
United States
Online Status: OFFLINE
Last Login: 08/11/2020 08:37 PM
Member Since: 10/02/2002
Driving My Own Car


(Willing to give guys a ride)
Discuss This Trip/Event