ACADIA (join us for a day or more)
Weekend Trip
DATE: Sep 14, 2018 Friday

END DATE: Sep 17, 2018 Monday

Trip/Event Location: Bar Harbor ME
Trip Leader(s)
MO
Scarborough, ME United States
Meeting Time: 6:00 PM
Max # People: 12
Trip Guiding / Event Fee: No, I will not be asking participants for money
Difficulty Level:
Easy to Moderate
(Do you qualify to attend with this trip difficulty rating? Click Here.)
Region: New England
JOIN OUR NEW MEETUP GROUP to increase our exposure and have more guys sign up for our trips: click here to join our MeetUp Group. This trip may be posted at our MeetUp so you can sign up either there or here.
Sign Up To This Trip/Event
You must be a least a guest member to participate. Comments such as "+1" or "bringing a friend" are NOT permitted. All participants must sign-up for the event individually.
Select your mode of transportation, make any comments and then click on button.
You are not logged in.
Please, Log In
Trip Leaders can click here to edit or delete this activity.
Disclaimer: The club and its members take no responsibility and will not be held responsible for any injuries or accidents that may occur during club events. Outdoor sports are inherently dangerous and accidents will happen. By joining the club or participating in any events posted on the GayOutdoors web page you are taking responsibility for your own safety and well-being. Anyone with an internet connection can post a trip on the GayOutdoors web site. It is your responsibility to determine if this person has the experience and competence to lead the trip. GayOutdoors does not certify or confirm the qualifications of any of its members to lead or participate in trips.
Be Prepared: Please be prepared to be self-sufficient. Have your own provisions such as first aid kit, food, water, extra clothing for unplanned weather, etc. Have your EMERGENCY CONTACT SHEET completed and in your backpack; it may save your life, and help reach someone who greatly cares!
Pace: There may be activities when the group is either slower or faster than your current ability. Please know that because this is a group activity, it's hard to accommodate everyone's pace perfectly. Our desire is not to leave anyone, however there have been times when it is in the best interest of all to split up. Please do your part by knowing your own abilities, communicating with the organizer head of time if you would like to start early and have us catch up or fine with finishing on your own.
Summary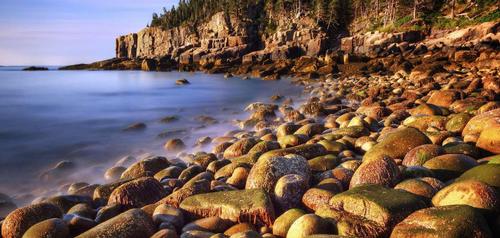 JOIN US FOR A DAY OR MORE IN ACADIA - we'll be hiking, biking, kayaking, sightseeing and doing other activities in Acadia National Park.
We will arrive in Acadia on Friday, September 14 (early afternoon) and leave Monday, September 17 (early afternoon) – for a total of 3 nights.
IF YOU CANNOT STAY FOR THE 3 NIGHTS -- then arrive & leave when you can (we will work out the meet up details). Any questions – just email us via the GO site.
By mid-September the summer crowds should have thinned out.
You will have to arrange your own transportation & lodging. BUT - If you would like some help just email us (via GO) and we can suggest options and try to team guys up so you can share both transportation & lodging. There are several campgrounds and many motels/hotels in the Acadia area.
We will schedule one moderate hike a day, as well as, bike rides on the carriage trails. We also plan a walk along Ocean Path and other areas on Mount Desert Island. All activities are optional and if you'd like to schedule other activities, such as kayaking, we can help. The area has biking and kayaking rentals & tours.
Since all activities are optional let's try to meet for breakfast and dinner every day, as well as, spend the evening together.

HIKING:
A classic, must do hike, is Cadillac South Ridge. The views while hiking (and from the top) are spectacular. Distance out & back is 7.4 miles and elevation gain is about 1,400 feet.
Another moderate hike is up Penobscot & Sargent Mountains. This 6.5 mile hike traverses over two mountains with great views. Elevation gain is approximately 1,200 feet.
Other hiking options, to name a few, are Jordan cliffs & bluffs, Pemetic Mountain, Bernard Mountain, and the trails to the west of Long Pond. All hikes are moderate in distance and elevation.
These hikes will begin in the morning and finish in the early afternoon – allowing guys to do other activities in the afternoon.
BIKING:
Bring your bike or rent one. There is approximately 12 miles (out & back) of easy–moderate carriage trails – which includes biking past Witch Hole Pond, Eagle Lake and Bubble Pond.
We will do these and then, for those who want a more extensive biking adventure, we will do inner and outer loops around Jordan Pond, as well as, separate excursions on the outer carriage roads. We will plan on a bike ride every afternoon.
KAYAKING / CANOEING:
There is an abundance of ocean kayaking available. The Acadia lakes are also open to paddlers (Eagle Lake, Jordan Pond & Long Pond to name a few). Bring your kayak/canoe or rent one. If you choose you can also join any of the kayaking tours.
SIGHTSEEING / WALK:
The OCEAN PATH is an unsurpassed scenic walking trail that takes you to Sand Beach, Thunder Hole and Otter Cliff. Spectacular views !!! Total distance is about 4 miles round trip - easy walking.

There are numerous other outdoor activities to do like:
Touring the Park Loop Road
Hitting Sand Beach
Catch a scenic ocean day cruise
Viewing Asticou & Thuya Gardens
Explore Bar Harbor
Etc.
The national park website is: https://www.nps.gov/acad/index.htm
Driving directions to the location and spot to meet at:
FROM THE SOUTH:
Take I-95 north to Augusta
Take Exit 113 – Route 3 east Belfast
Once in Belfast - take US Route 1 north
Stay on Route 1 until you arrive in Ellsworth
Once in Ellsworth take route 3 onto Mount Desert Island
Stay on Route 3 for Bar Harbor
FROM THE NORTH:
Take I-95 south to Bangor
Take Route US-1A east to Ellsworth
Once in Ellsworth take route 3 onto Mount Desert Island
Stay on Route 3 for Bar Harbor
Trip Leader
MO
Outdoor Fitness Level: Moderate to Strenuous
Scarborough, ME
United States
Online Status: OFFLINE
Last Login: 04/20/2019 01:32 PM
Member Since: 12/06/2016
members signed up for this event
phoenix
Outdoor Fitness Level: Moderate to Strenuous
Somersworth, NH
United States
Online Status: OFFLINE
Last Login: 04/14/2019 09:05 PM
Member Since: 02/24/2013
fitnessgerard
Outdoor Fitness Level: Moderate
Kew Gardens, NY
United States
Online Status: OFFLINE
Last Login: 04/10/2019 04:54 PM
Member Since: 08/12/2018
Driving My Own Car


(Willing to give guys a ride)
Comment: I'm coming up from NYC in a rental car. Happy to bring someone should they need a ride. But I'm am heading to Canada after the weekend hike so will not be heading back home the same way. This is my first trip with Gay Outdoors. I am really excited to meet new people and experience new adventure. Thank you
freespirit
Outdoor Fitness Level: Moderate
Dover, NH
United States
Online Status: OFFLINE
Last Login: 04/18/2019 03:26 PM
Member Since: 04/22/2006
Driving My Own Car


(Willing to give guys a ride)
Discuss This Trip/Event