Bluff Point Hike and Swim in CT Sound
Hiking/Walk
DATE: Jul 21, 2018 Saturday

END DATE: Jul 21, 2018 Saturday

Trip/Event Location: Groton CT
Trip Leader(s)
dave0729
Bolton, CT United States
Meeting Time: 11:00 AM
Max # People: 30
Trip Guiding / Event Fee: No, I will not be asking participants for money
Difficulty Level:
Easy
(Do you qualify to attend with this trip difficulty rating? Click Here.)
Region: New England
Sign Up To This Trip/Event
You must be a least a guest member to participate. Comments such as "+1" or "bringing a friend" are NOT permitted. All participants must sign-up for the event individually.
Select your mode of transportation, make any comments and then click on button.
You are not logged in.
Please, Log In
Trip Leaders can click here to edit or delete this activity.
Disclaimer: The club and its members take no responsibility and will not be held responsible for any injuries or accidents that may occur during club events. Outdoor sports are inherently dangerous and accidents will happen. By joining the club or participating in any events posted on the GayOutdoors web page you are taking responsibility for your own safety and well-being. Anyone with an internet connection can post a trip on the GayOutdoors web site. It is your responsibility to determine if this person has the experience and competence to lead the trip. GayOutdoors does not certify or confirm the qualifications of any of its members to lead or participate in trips.
Be Prepared: Please be prepared to be self-sufficient. Have your own provisions such as first aid kit, food, water, extra clothing for unplanned weather, etc. Have your EMERGENCY CONTACT SHEET completed and in your backpack; it may save your life, and help reach someone who greatly cares!
Pace: There may be activities when the group is either slower or faster than your current ability. Please know that because this is a group activity, it's hard to accommodate everyone's pace perfectly. Our desire is not to leave anyone, however there have been times when it is in the best interest of all to split up. Please do your part by knowing your own abilities, communicating with the organizer head of time if you would like to start early and have us catch up or fine with finishing on your own.
Summary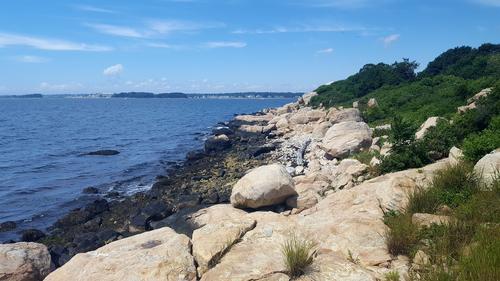 Bluff Point is the last significant piece of undeveloped land (800 acres) along the Connecticut coastline. It is one of the few public parks in Connecticut where one can combine a hike and a dip in Long Island Sound. It was a popular recreational destination through the 1920's and early 1930's, but a thriving community of over 100 cottages was destroyed on September 21, 1938 when a massive hurricane came ashore at high tide and wreaked havoc on the beach community. It was then decided that this area was not suitable for dwellings, and so the lost cottages were never rebuilt. In 1975 the Connecticut Legislature designated the area a "coastal reserve" and then a state park. We will hike an elliptical route clockwise from the parking lot to the rocky bluffs for picturesque views of rocks, beach and Sound, with photo opportunities galore. From there we will go to a strip of beach along Long Island Sound for an optional swim/wade (or just get ankles wet). Have your swimming attire at hand and beach towel. This is a low-intensity hike (relatively flat), but ideal for a Dog Day of Summer with optional swim. The hike will last about two hours, not including the time the group decides to take for photos on the bluffs and the dip in the Sound. Dogs are allowed on the hike, but technically not allowed on the strip of beach where we will be swimming. After hike/swim, the group will rendezvous at a local restaurant for an after-hike social, for those interested.
Driving directions to the location and spot to meet at:
Take exit 88 off I-95 (North or South) to CT-117 South. From the intersection of CT-117 drive 0.3 miles to US-1 South in Groton, CT. Drive 0.3 miles and take a left onto Depot Road. If you use GPS address "1 Depot Road, Groton" your GPS will get you to this point. Once on Depot Road, drive 0.7 miles, passing an industrial park and bearing right under a railroad bridge, until you reach the parking area. Parking is ample and free. We will meet at end of parking area, at the trailhead. Look for the park billboard with map of trails that are adjacent to some picnic tables.
Trip Leader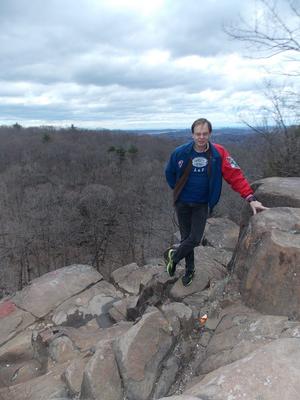 sustaining member
dave0729
Outdoor Fitness Level: Moderate to Strenuous
Bolton, CT
United States
Online Status: OFFLINE
Last Login: 07/12/2018 09:54 PM
Member Since: 06/24/2007
members signed up for this event
sustaining member
dreamer
Outdoor Fitness Level: Easy to Moderate
Bolton, CT
United States
Online Status: OFFLINE
Last Login: 03/29/2018 07:03 PM
Member Since: 05/04/2014
guest member
LymeLight
Outdoor Fitness Level: Easy to Moderate
Lyme, CT
United States
Online Status: OFFLINE
Last Login: 07/11/2018 11:10 PM
Member Since: 07/02/2017
Driving My Own Car


(Willing to give guys a ride)
guest member
Danas
Outdoor Fitness Level: Strenuous
Waterbury, CT
United States
Online Status: OFFLINE
Last Login: 07/08/2018 07:13 AM
Member Since: 10/22/2017
Driving My Own Car


(Willing to give guys a ride)
Discuss This Trip/Event
LymeLight
Posted Jul 5, 2018 at 5:33 PM
I got an email with the subject line saying the event details have changed. What details have changed?