Malibu Creek State Park Hike
Hiking/Walk
DATE: Feb 17, 2018 Saturday

END DATE: Feb 17, 2018 Saturday

Trip/Event Location: Calabasas CA
Trip Leader(s)
Menard
Long Beach, CA United States
Meeting Time: 9:00 AM
Max # People: 20
Trip Guiding / Event Fee: No, I will not be asking participants for money
Difficulty Level:
Easy to Moderate
(Do you qualify to attend with this trip difficulty rating? Click Here.)
Region: California/Hawaii
JOIN OUR NEW MEETUP GROUP to increase our exposure and have more guys sign up for our trips: click here to join our MeetUp Group. This trip may be posted at our MeetUp so you can sign up either there or here.
Sign Up To This Trip/Event
You must be a least a guest member to participate. Comments such as "+1" or "bringing a friend" are NOT permitted. All participants must sign-up for the event individually.
Select your mode of transportation, make any comments and then click on button.
You are not logged in.
Please, Log In
Trip Leaders can click here to edit or delete this activity.
Disclaimer: The club and its members take no responsibility and will not be held responsible for any injuries or accidents that may occur during club events. Outdoor sports are inherently dangerous and accidents will happen. By joining the club or participating in any events posted on the GayOutdoors web page you are taking responsibility for your own safety and well-being. Anyone with an internet connection can post a trip on the GayOutdoors web site. It is your responsibility to determine if this person has the experience and competence to lead the trip. GayOutdoors does not certify or confirm the qualifications of any of its members to lead or participate in trips.
Be Prepared: Please be prepared to be self-sufficient. Have your own provisions such as first aid kit, food, water, extra clothing for unplanned weather, etc. Have your EMERGENCY CONTACT SHEET completed and in your backpack; it may save your life, and help reach someone who greatly cares!
Pace: There may be activities when the group is either slower or faster than your current ability. Please know that because this is a group activity, it's hard to accommodate everyone's pace perfectly. Our desire is not to leave anyone, however there have been times when it is in the best interest of all to split up. Please do your part by knowing your own abilities, communicating with the organizer head of time if you would like to start early and have us catch up or fine with finishing on your own.
Summary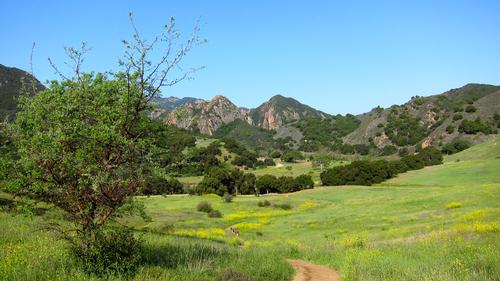 Summary
Date: February 17, 2018
Time: 9:00 am
Location: Near Calabasas, CA
Distance: 8 miles round trip
Elevation: 300 ft
Hike Time: 4 1/2 –to 5 hours
Difficulty: Easy to Moderate
Trail Type: Well maintained trail
Hike Type: Out and Back





Description

Before land for Malibu Creek State Park was acquired in 1974, it was divided into three parcels belonging to Bob Hope, Ronald Reagan, and 20th Century Fox. Although the park is still used for movie making, it's primarily a haven for day hikers and picnickers.

Malibu Creek State Park is a sprawling chunk of parkland in the Santa Monica Mountains, hugging the Malibu Creek as it flows into the ocean, while also stretching east along the Backbone Trail. There are several distinct sections of the park, and we will hike the "lower canyon" area, along the trails that follow Malibu Creek through a striking section of the mountains known as the Goat Buttes.

Century Lake: We will start the hike with a leisurely stroll through the Grassland trail and meet up with Crags road. We will see a prominent concrete bridge crossing the creek that leads to the visitor center. We will veer right, keeping on Crags Road, and will cross Malibu Creek on another bridge, just north of Century Lake. Here, the landscape is more like a wetland, and during the spring months there are many migratory birds that make a stop in this area of the canyon. After crossing the creek, the road narrows considerably, and eventually turns into a single-track trail over some very rocky terrain.

M*A*S*H Movie site: The trail continues in this shaded section between the Goat Buttes, then comes upon the site of the M*A*S*H set. There's not a whole lot left from the show, but there are two rusted but fairly well preserved vehicles. We will have a nice view of the prominent Goat Buttes that tower above the site and were featured in the opening shot of each episode.

We will then turn back and at the 4.7-mile mark we will reach the Forest Trail junction. It isn't marked with a sign like many of the other side trails, but it's a very clear path cut through the grass, just before we cross the bridge over the Creek.

The Forest Trail is a short stretch of track that hugs the southern banks of Century Lake, another artificial lake formed by a dam. The trail here is shady and cool, the result of some non-native trees such as Redwoods that were planted here some time ago. The trail is only a half-mile to the edge of the dam, where we will have to turn around and hike back the way we came. But the views from the dam and the reflections on the lake water are worth the short side-trip.

Rock Pool: One last stop before we head out is Rock Pool — a popular area for swimming and rock climbing. The "Swiss Family Robinson" television series and some Tarzan movies were ?lmed here. We may see a few climbers on the rock walls along the way. The trail ends at the aptly named Rock Pool. This is a very popular hangout. Relax, take a dip, or try your hand at climbing a bit? We will then return back to the Grassland Trail.

Menard is leading this hike for both the Gay Outdoors and the Great Outdoors members. Note: women may be participating.
Driving directions to the location and spot to meet at:
Directions to Trailhead
From Highway 101/Ventura Freeway, take Las Virgenes Road South for about 3 1/2 miles. Turn right on Mulholland Road.
From Pacific Coast Highway, turn inland on Malibu Canyon Road and proceed 6.75 miles and turn left on Mulholland Highway.
You can park for free on the side of the road. Walk up the road until you see a sign for the Grasslands Trail. We will meet there.
What to Bring
Good hiking boots/shoes. Pack a lunch, snacks and bring plenty of water. Bring a hat/cap and sunscreen. We can go to a local restaurant after the hike for those who are interested.
Trip Leader
sustaining member
Menard
Outdoor Fitness Level: Moderate
Long Beach, CA
United States
Online Status: OFFLINE
Last Login: 05/16/2018 09:50 AM
Member Since: 02/24/2010
Approved By: TrailGuyEric
members signed up for this event
guest member
believeinosx
Outdoor Fitness Level: Moderate
Long Beach, CA
United States
Online Status: OFFLINE
Last Login: 05/08/2017 07:03 PM
Member Since: 09/30/2011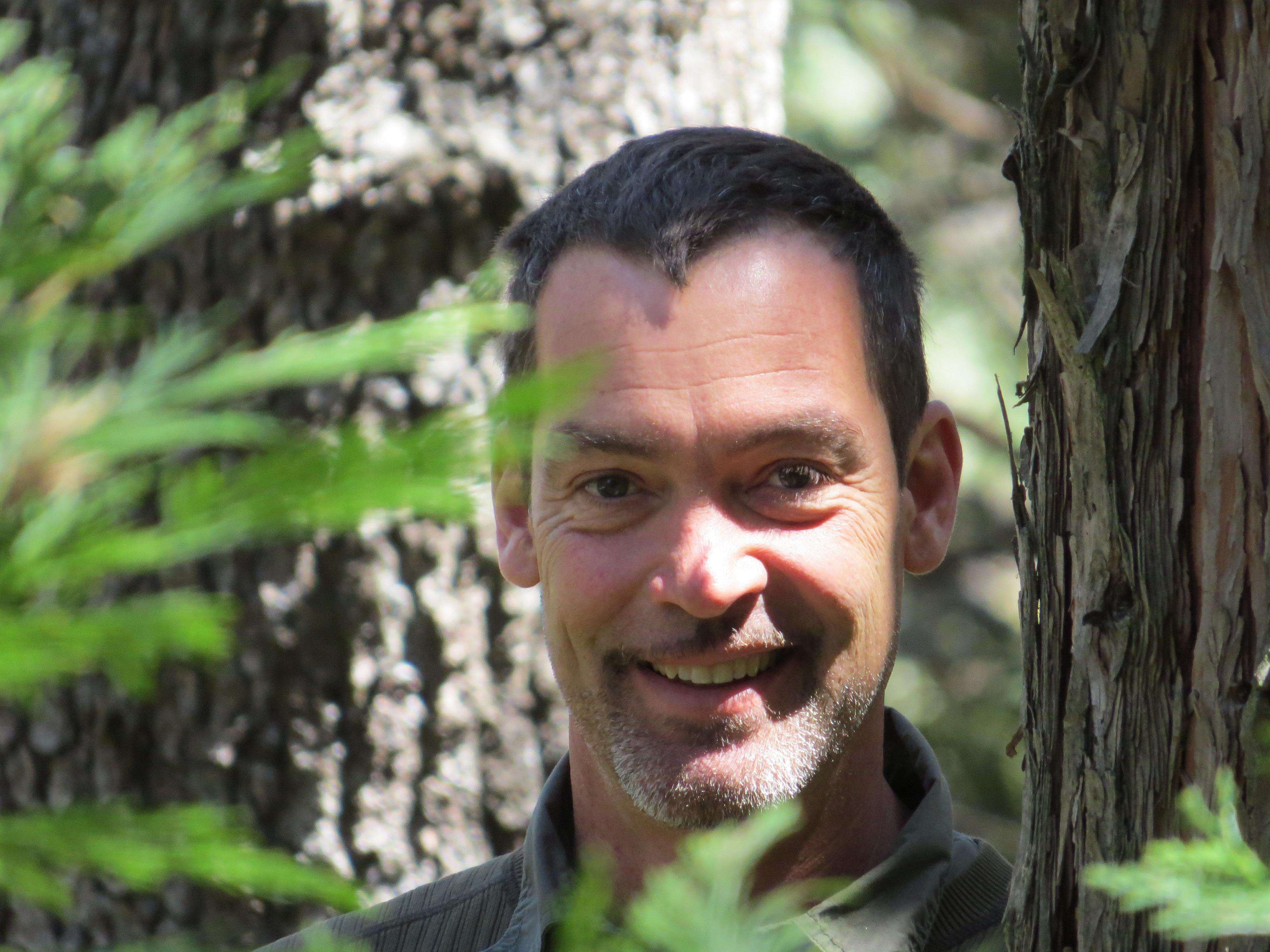 guest member
LAHORT
Outdoor Fitness Level: Moderate
Los Angeles, CA
United States
Online Status: OFFLINE
Last Login: 02/12/2018 04:15 PM
Member Since: 04/17/2017
Driving My Own Car


(Willing to give guys a ride)
Discuss This Trip/Event