San Onofre Nude Beach Trip
Weekend Trip
DATE: Jul 29, 2017 Saturday

END DATE: Jul 29, 2017 Saturday

Trip/Event Location: Garden Grove CA
Trip Leader(s)
doctor34
Garden Grove, CA United States,
BAMEN
Garden Grove, CA United States
Meeting Time: 9:00 AM
Max # People: 100
Trip Guiding / Event Fee: No, I will not be asking participants for money
Difficulty Level:
Easy
(Do you qualify to attend with this trip difficulty rating? Click Here.)
Region: California/Hawaii
Sign Up To This Trip/Event
You must be a least a guest member to participate. Comments such as "+1" or "bringing a friend" are NOT permitted. All participants must sign-up for the event individually.
Select your mode of transportation, make any comments and then click on button.
You are not logged in.
Please, Log In
Trip Leaders can click here to edit or delete this activity.
Disclaimer: The club and its members take no responsibility and will not be held responsible for any injuries or accidents that may occur during club events. Outdoor sports are inherently dangerous and accidents will happen. By joining the club or participating in any events posted on the GayOutdoors web page you are taking responsibility for your own safety and well-being. Anyone with an internet connection can post a trip on the GayOutdoors web site. It is your responsibility to determine if this person has the experience and competence to lead the trip. GayOutdoors does not certify or confirm the qualifications of any of its members to lead or participate in trips.
Be Prepared: Please be prepared to be self-sufficient. Have your own provisions such as first aid kit, food, water, extra clothing for unplanned weather, etc. Have your EMERGENCY CONTACT SHEET completed and in your backpack; it may save your life, and help reach someone who greatly cares!
Pace: There may be activities when the group is either slower or faster than your current ability. Please know that because this is a group activity, it's hard to accommodate everyone's pace perfectly. Our desire is not to leave anyone, however there have been times when it is in the best interest of all to split up. Please do your part by knowing your own abilities, communicating with the organizer head of time if you would like to start early and have us catch up or fine with finishing on your own.
Summary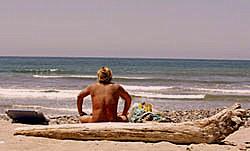 This day trip is to a pretty much nude-only section of beach, however some do wear suits. (But just don't be surprised if someone wants to take it off you if you do wear one!) ;)
We have 1 car, at least, leaving from S.E. Garden Grove headed out to San Onofre with room for 2 more guys! This first car is not asking for gas money, but we're not above donations. ;)
We want to try to arrive there around 10-10:30, so that there's plenty of parking not too far from the last entrance to trail #6 ! -It takes 45 mins. to an hour+ to get there, typically, from this West-Central O.C.
This beach has a long history of nude use just past the end of trail 6, and since the State Parks decided to frown on nudity, people still go there and go past the small fence that marks the beginning of the marine base land, but the MP's only rush you off if you're there on a weekday when they have live fire exercises.
Plan to bring sunblock, hat and/or sunglasses, a towel and/or beach blanket, your own non-alc. beverages, and lunch or a snack for yourself, plus anything else you might want at the beach, like maybe sandals.
At last notice, the rinse-off showers at the parking area were turned off, but a short distance away is San Mateo Campground, and they do have showers there indoors, in pvt. rooms, so share a shower if you like! (Expect to see a fee of about $0.25/2 mins., but there is hot water, unlike at the beach!) San Onofre State Beach parking is $15/car, but there's no fee due from our group.
We're suggesting a possible stop somewhere, perhaps at In 'n Out Burger, for a bite on the way back... I think there's on around San Juan Cap. if I remember right. -We can coordinate at the beach or in email and plan our stop if you want to dine as a group.
FYI: There are no restrooms on the beach... Many use the little grottos along the cliffs for #1 however. We will probably plan to leave late afternoon, but it depends on weather conditions and how late everyone wants to stay.
NOTE: The event will be cancelled/rescheduled if it's supposed to be too cool or rainy.
Driving directions to the location and spot to meet at: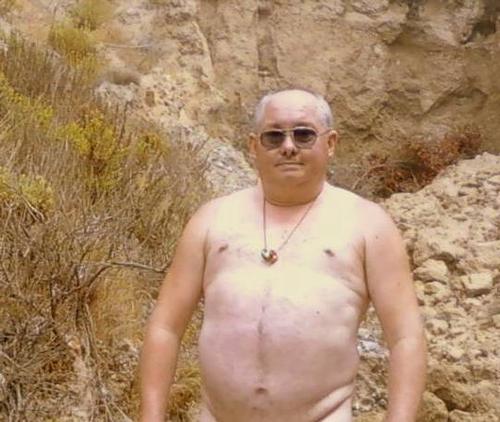 Google Map/Directions:
http://bit.ly/san-onofre
Trip Leader(s)
doctor34
Outdoor Fitness Level: Easy
Garden Grove, CA
United States
Online Status: OFFLINE
Last Login: 11/10/2017 11:53 AM
Member Since: 05/18/2006
Approved By: TrailGuyEric
BAMEN
Outdoor Fitness Level: Easy
Garden Grove, CA
United States
Online Status: OFFLINE
Last Login: 04/14/2018 06:59 PM
Member Since: 04/16/2012
Approved By: TrailGuyEric
members signed up for this event
jm7197
Outdoor Fitness Level: Very Strenuous
Los Angeles, CA
United States
Online Status: OFFLINE
Last Login: 06/05/2017 12:19 PM
Member Since: 12/18/2006
Driving My Own Car


(Possibly willing to give guys a ride)
guest member
perry62
Outdoor Fitness Level: Easy
Garden Grove, CA
United States
Online Status: OFFLINE
Last Login: 09/03/2017 01:22 AM
Member Since: 06/04/2017
Discuss This Trip/Event
doctor34
Posted Jun 25, 2017 at 4:41 AM
BTW, if you're interested in the Riverside naked men's pool party on 7/8, let me know your Facebook name via pvt. msg.
doctor34
Posted Jun 25, 2017 at 4:36 AM
Sorry! I hate it, but I've had to adjust the date... One last time! Was invited to a different pool party this time... Last was in Burbank, this time Riverside! So in case anyone else was, too, my roommate and I decided on the 5th Sat. 7/29 - Hope you can still go! ?
doctor34
Posted Jun 22, 2017 at 12:18 PM
My apologies on changing the date & changing it back... A friend planned a pool party for 7/8, and I wanted to attend, however it's now been cancelled, so I've changed it back. :) I promise I will not change it again.