Profile Properties
trafficlight2000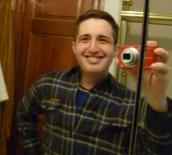 David

Age:

31

Location:

Pittsfield, MA, United States

Date Joined:

July 06, 2017

Last Login:

May 11, 2018

Relationship Status:

Looking For

: Friends

Outdoor Fitness Level:

Easy to Moderate

Activities:

Hiking
Walking - Leisurely

About me:

: I love going on easy to moderate (I guess more moderate) hikes and walks when I can. Being outdoors really soothes my mind, especially when someplace quiet. I've never done a Gay Outdoors adventure before, so open to seeing what it's like.

Favorite Places:

:

Outdoor Experience:

: I would say I am a reasonably proficient hiker and walker. I've gone on walks ranging anywhere from 1-2 hours and the same with hikes. My most recent strenuous hike was climbing Balsam Mountain in the Catskills with a friend. Apparently I learned afterwards that it is one of the Catskill 3500s so that was why it seemed so intense. I'm always up for trying new hikes; I like to try to stay in the best shape I can.