Night 2 Loft Mountain Campground
Camping
DATE: Sep 21, 2018

END DATE: Sep 21, 2018

Trip/Event Location: Shenandoah National Park, 22932 VA
Trip Leader(s)
TrailGuyEric
Chesterfield, VA United States
Meeting Time: 1:00 PM
Max # People: 6
Trip Guiding / Event Fee: Yes, but only to cover shared expenses, and I too am paying
Difficulty Level:
Easy
(Do you qualify to attend with this trip difficulty rating? Click Here.)
Region: DC Region
Sign Up To This Trip/Event
You must be a least a guest member to participate. Comments such as "+1" or "bringing a friend" are NOT permitted. All participants must sign-up for the event individually.
Select your mode of transportation, make any comments and then click on button.
You are not logged in.
Please, Log In
Trip Leaders can click here to edit or delete this activity.
Disclaimer: The club and its members take no responsibility and will not be held responsible for any injuries or accidents that may occur during club events. Outdoor sports are inherently dangerous and accidents will happen. By joining the club or participating in any events posted on the GayOutdoors web page you are taking responsibility for your own safety and well-being. Anyone with an internet connection can post a trip on the GayOutdoors web site. It is your responsibility to determine if this person has the experience and competence to lead the trip. GayOutdoors does not certify or confirm the qualifications of any of its members to lead or participate in trips.
Summary
Join us for a great weekend of post-summer camping. Weather should be great. Loft Mountain Campground, site #G185
Located at mile 79.5 of Skyline Drive, Loft Mountain Campground is the largest campground in the park. The campground sits atop Big Flat Mountain with outstanding views to east and west. Two waterfalls and the trails into the Big Run Wilderness area are nearby.
I have extra tents, sleeping bags, and pads if you don't have your own.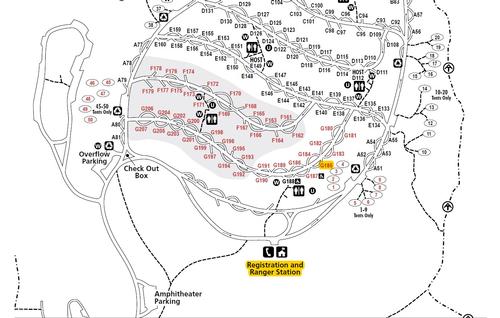 Located at mile 79.5 of Skyline Drive. Use the link below.
https://www.google.com/maps/place/Loft+Mountain+Campground/@37.4615081,-79.201327,10z/data=!4m5!3m4!1s0x89b37fab6be86721:0xb37a9e07abf44a4d!8m2!3d38.2540703!4d-78.6647892
Trip Leader
sustaining member
TrailGuyEric
Outdoor Fitness Level: Moderate to Strenuous
Chesterfield, VA
United States
Online Status: OFFLINE
Last Login: 07/22/2019 06:44 AM
Member Since: 01/08/2003
Approved By: TrailGuyEric
members signed up for this event
sustaining member
Jan
Outdoor Fitness Level: Moderate
Richmond, VA
United States
Online Status: OFFLINE
Last Login: 07/15/2019 08:23 AM
Member Since: 12/31/2013
Driving My Own Car


(Willing to give guys a ride)
Discuss This Trip/Event