Tuckermans Ravine Lunch Rocks Party
Hiking/Walk DATE: 05/27/2019 - 05/27/2019
Trip/Event Location: Jackson, NH
US
Trip Leader(s): Gandalf
Max # People: 15
Trip Guiding / Event Fee: No, I will not be asking participants for money
Difficulty Level: Moderate to Strenuous
We'll be hiking into Tuckerman's to watch those crazy skiers/riders do suicidal runs down the face of the Ravine!
Join us for a challenging hike to Tuckerman's Ravine. Just hike or you
...
Driving directions to the location and spot to meet at:
Rte. 93 to Exit 23, Rte. 104 to Rte. 3 into Meredith, Rte. 25 to Rte. 16, North to trailhead.
Tuckerman Ravine Trail starts at the AMC Pinkham Notch Visitor Center. The Visitor Center is located on Rt. 16, about 20 miles north of Conway and 11 miles south of Gorham.
We'll meet you at the porch. I'll be wearing a Patriots Hat.
Trip Report/Photos
A day in the Tuckerman Ravine snow bowl on a sunny day is an experience not to be missed. It beats the same 'ole hike to a summit…there's really nothing like it in the White Mountains.
After a long, cold and mostly awesome winter, spring is advancing in full force across New England. Approaches are starting to melt out and sunscreen is appearing in my pack! This means the time has come for the annual pilgrimage to the Presidential Range as the calendar turns to May.
Of course, we've seen images of the party scene, the famously steep headwall, and knew a little of the history behind Tuckerman Ravine. Located on Mount Washington, the highest mountain in the Northeast at 6,288 feet, Tuckerman is the most famous backcountry ski descent in New England, and listed as one of the "50 Classic Ski Descents in North America," according to the 2010 book of the same name!
This winter has been a very good snow year! Jon and I kept rescheduling this hike due to cold and/or rainy weather so by the time we could do this hike it was Memorial Day. Members had moved on to do other things, and Jon had to work. I was on my own.
After grabbing a coffee and breakfast sandwich at Dunkin' Donuts at 8:00 I drove to Pinkham Notch and got there at 9:45. The sign said LOT FULL but I entered anyways and found a parking spot. There was probably parking spots left for about five vehicles.
All I needed was summer hiking boots and hiking poles. I had my day pack with the normal stuff…except this time I added some wine…after all…this was a Tuckerman's Party!!!
Being Monday of the long holiday weekend with most people heading home, it felt more like a weekday hike. There were many skiers and hikers just there to see the scene. I probably saw about 30 people with ski/snowboards today; some in the bowl for the first time. I saw a family with two boys, aged about 11 and 8 years old, carrying skis…awesome!
I did the usual, checking out the snow conditions and warnings and dangers, then started up the trail. The trail was rocky and snow free at the start.
I encountered people who lashed skis/snowboards to packs with car straps. I imagine this free-for-all was what skiing was like at the old snow parks before chairlifts, heated walkways, and expensive $100 lift tickets!
Soon things settled into a rhythm. I did encounter snow after crossing the two bridges over Cutler River further up. It took me about 1:30 minutes to make it up to HoJo's, the ranger station just below the ravine. This is where you get the first excellent views of the Bowl and Lion Head, also of Hillman's Highway, a slightly used run below the main part of the Bowl. Skiers and hikers got their gear together and rested before pushing up the final half mile to the Bowl.
I used the outhouse, drank water, ate a snack, and got ready for the climb into the Bowl. The trail narrows quite a bit here. There were rock steps and the trail is steeper, so the pace was a bit slower. After about 30 minutes I arrived in the Bowl. It's hard to represent in photos the massive size and grandeur of the Bowl. I am always awed every time I reach the floor! From the floor, 1000 foot walls rise on three sides, huge snow and ice covered chutes and gullies, interspersed with rocks, scrub trees, and a multitude of skiers, boarders, hikers, and dogs. Directly ahead are the Icefalls and Lip, frighteningly steep and sheer. This is in my opinion, one of the best hikes in the White Mountains, without tagging a summit!
It was around noon, and there were some people skiing. I headed up to the Lunch Rocks, the place to observe, cheer, and take pictures of the scene! It's surprisingly steep up to the Lunch Rocks.
I got about 10 minutes of sun and then the clouds rolled in. It was real nice for the first 10 minutes but hung out another 30 minutes after putting on another layer. As I settled into my chosen spot on the rocks, I was pretty tired from the hike up, so I settled in for a rest and took in the scene.
Mount Washington is no joke, though. Summit winds have been recorded up to 231 miles per hour and the White Mountains have seen over 150+ deaths since 1950, most of those occurring from exposure, falls, and avalanches. I sat there with my wine and watching the skilled take the stage. Some artfully ripped down the 50-degree slope in a few turns. There's nothing like it!
The ridiculousness and joy of sliding on snow is undeniable and universal, whether by the advanced degree or elementary means. The goal at Tuckerman Ravine is to have fun (and maybe drinking alcoholic beverages). And by God, that is what happens here!
After food, lots of water, wine, and plenty of rest I decided to head down. I packed up, climbed around the Lunch Rocks to the Bowl and started down to the floor.
I left Pinkham around 3:00, truly a full day. A most excellent goodbye to winter hike!
There are 53 photos in Album (Note: Move mouse pointer over larger pic and click on NEXT for better viewing)
What Members Are Saying About This Trip/Event
Nice photos. I've been there in late July when there was still enough snow to ski on. Amazing! - sedonahikerman
Sounds like it was great wish i could've been there - FlamingStream
Members That Participated
sustaining member
Gandalf
Outdoor Fitness Level: Very Strenuous
Thornton, NH
United States
Online Status: ONLINE
Last Login: 09/25/2023 02:37 PM
Member Since: 08/20/2001
sedonahikerman
May 28, 2019 at 10:19 PM
Comment: Nice photos. I've been there in late July when there was still enough snow to ski on. Amazing!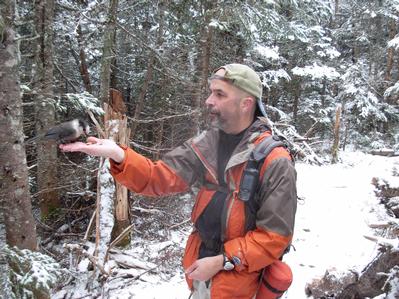 FlamingStream
May 28, 2019 at 7:47 PM
Comment: Sounds like it was great wish i could've been there
<