HUT-TO-HUT HIKING AUSTRIA'S AND GERMANY'S ZUGSPITZ ARENA
Vacation Trip DATE: 08/31/2019 - 09/09/2019
Trip/Event Location: Boston, MA
US
Trip Leader(s): Gandalf
Max # People: 8
Trip Guiding / Event Fee: Yes, but only to cover shared expenses, and I too am paying
Difficulty Level: Strenuous
This 52 mile route takes in all four mountain ranges converging on the Zugspitz Arena! As well as crossing the German border to hike its highest peak!
This 52 mile route takes in all four mountain
...
Driving directions to the location and spot to meet at:
Driving directions to the location and spot to meet at:
I was checking on flights and I was looking for one where we would arrive in Munich in the morning. I found a round trip flight on Aer Lingus from Boston to Munich roundtrip for $763 leaving at 5:50pm and arriving in Munich at 10:45am. If you are leaving from another airport, you have to be sure you arrive at the Munich airport 11:00AM on September 1st so we can get a train into Munich 12PM. We'll have to find a convenient location in the airport to meet you.
Trip Report/Photos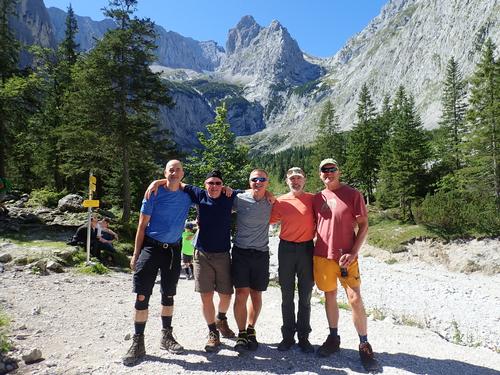 Short Version: After putting in a few hours of editing, our documentary of our 52 mile Zugspitze Arena and Wetterstein Mountain Hut Trek in Austria and Germany is finished! The montage is pretty incredible and can I say "WOW"! While pictures don't do the trip justice, they do manage to convey the majesty of the region.

>>Click Here To View Pictures

Long Version:

Dave, Bob, Richard, Jon and I spent a week in September 2019 hiking around the Zugspitze Arena and the Wetterstein Mountains in Austria and Germany. Our six day trek would take us through some of the most stunning scenery Austria and Germany has to offer, taking us in all four of the mountain ranges that converge on the Zugspitze Arena. Surrounded by the rugged ranges of Zugspitze, Wetterstein, Mieminger Kette and Ammergauer Alps, Tirol Zugspitz Arena's spectacular environment is best explored on foot!
We went quite deep into the wilder Wetterstein range within Bavaria. The terrain varied from gravel tracks, narrow paths and loose rocky trails, particularly in the higher peaks. Our high points each day ranged between 6,000 to 7,411 feet. Our elevation gain for each day ranged from 2,627 feet to 5,400 feet. Our backpacks weighed about 22+ pounds including water. German was the primary language throughout our trek.

The first part of the trip is primarily in mountain pastures and across scree fields with views of distant mountain ranges. I would describe the mountains here as stunning. Compared to other treks with been on, we encountered very few people during the day. The second half of the trip visited the dramatic Hollentalkham [Hell's Valley] Gorge via a series of tunnels, bridges and engineered footpaths that passed under gushing waterfalls. We ended hiking just below Germany's highest peak, Zugspitz at 9,717 feet. The most people we encountered at one time was when we hiked through Hell's Valley Gorge.

We ate lots of German food throughout our trek. German food included Knödel [bread dumplings in different sauces or in a broth], Goulash [shredded beef in a brown sauce], Wiener schnitzel [pounded veal in bread crumbs], and charbroiled Swinehaxen [pork knuckles]! The food was delicious and we found the beer at the Mountain Huts less expensive than coke.

The people working in the Mountain Huts spoke German but knew a few words of English so were able to communicate. Everyone we met was very friendly and helpful. Most of the trekkers we met were either from Austria and Germany. We were the only Americans.
At the start, we made friends with Roger and Jean from Scotland, who were doing the exact same route as us, starting and ending at the same time. That's because we used the same outfitter. We jokingly thought of the TV show, Amazing Race, Scots vs. Americans, as to whom would arrive first to the Mountain Hut each day. The Scots won each day but Dave almost beat them, by 20 feet, at our last mountain hut…LOL. All in good fun!

We spent our nights in the mountain huts and in a Pension halfway through. They all offered lodging, hot meals, wine/beer and showers; sleeping arrangements were in traditional bunk rooms except for the Pension where we had private rooms. We were under the half pension plan…we had at least couple of choices for dinner each night. Breakfast was always simple with a variety of bread rolls with butter and jam; and hot coffee. This is luxurious compared to the Appalachian Mountain Huts and much less expensive; an average of $60 per night for lodging, dinner and breakfast! We relied on Mountain Huts we encountered during the day for lunch.

The mountains huts for the most part were very good. I think everyone's favorite Mountain Hut was the first night, at Wolfrathauser Hutte while my favorite was on our 4th night, Kreuzeckhaus. We all agreed that the worst hut was the Coburger Hutte with cramped sleeping quarters and dining room; and the showers running out of hot water…thanks Bob…LOL.
Our hotel at the start [Sonnenspitze] and end of our trek in Ehrwald was great with private rooms/showers, balcony views, swimming pool, spa, and a delicious breakfast. We were not impressed with the restaurants in town but that probably had more to do with us making bad choices.

Colletts Mountain Holidays, our outfitter, provided up the route cards and maps. Between Dave and myself, from studying the information before leaving, had a good working knowledge of the trek such as trails, Mountain Huts, and transportation. The maps were particularly helpful with understanding the route. As we did our trek, I obtained a better working knowledge each day. Colletts reserved all the accommodations for us. We went from one hut for five days with a Pension in between. We did not have much flexibility if we were to encounter bad weather.

The trek basically went up into the mountains from a valley/road/pass. We went down to a valley/road almost every day. We were able to use a cable car for ascending on our first and second day; and for descending on our last day.

The guidebook and signs listed hiking times in kilometers. We found that we rarely made the book/sign hiking times. We did take a lot breaks to take pictures and enjoyed long lunches at the Mountain Huts.

>>Click Here To View Pictures

Trip Log
We did the trek in 6 days and that was pushing it since we did not have any bad weather or rest days planned. Weather can be a serious issue, since some sections in the route cards indicate they are dangerous in wet weather…and they are not kidding after hiking its entire length. We had a mix of sunny and cloudy/drizzle weather; I'd say 50/50 percent of the time. It was cooler than New England with the mountains receiving snow at the end of our trek. On the cloudy/drizzle days, we were hiking in swirling clouds but were still able to get views.
All in all, we loved our time in Zugspitze Arena and Wetterstein Mountains. We marveled at the dramatic mountains and stunning panoramas - we hope our pictures can convey some of this beauty.

Day 1: We met the Scots on this day and took a short bus ride to the start of our trek. It was cloudy with a slight drizzle when we started up a steep wooded ascent where we found ourselves traversing mountain pastures to the high shoulder of Gruner Ups [6076'] with superb views of the Arena and the three other mountain ranges that converge to make this impressive natural bowl! Surrounded by the rugged ranges of Zugspitze, Wetterstein, Mieminger Kette and Ammergauer Alps, Tirol Zugspitz Arena's spectacular environment is best explored on foot! By the time we were ready for lunch, the sun came out in time for Tuftl Alm, a great spot for lunch. We then went on to the village of Lermoos to take a cable car partway up the Lechtaler range. It was just starting to rain when we arrived at Wolfrathauser Hutte [5,744']. 7.9 miles with 3,976' elevation gain.

Day 2:
We ended the day doing a fatiguing climb up to Biberwierer Schwarte [6561'] in cloudy weather, a narrow pass between the iconic Sonnenspitze peak and the Wamperter Schrofen. At the start, we descended visiting the stunning deep waters of Blindsee lake and then the shallower waters of Mittersee lake. We took a break from the weather by having a coffee Zugspitzblick Café. The chair lift was not operating when we arrived and were concerned it was shut down due to the weather. We were relieved to discover is was running at an 'on demand' basis. When we got off the chairlift, the clouds were very thick, making it difficult to see, as we make our way to Sunn Alm for lunch, hoping it was open. Sunn Alm look deserted when we arrived however when we pulled the door, we found out it was open for business. Phew! We then did a high level traverse, over scree, crossing two rocky gullies, that had us question a few times, if we were on the right trail. We then worked our way up some rockery scenery, becoming very steep, loose and zigzagging tightly. Once we reached Biberwierer Schwarte, we made our way to Coburger Hutte [6,289'] to spend the night. Mileage was 10.2 with 3,139 feet-elevation gain.
Day 3: Next day we ascended to Tajatori [7,411], our highest point of this trek, a high pass between the towering peaks of the Griesspitze and the Hinterer Tajakopf, before descending into a moonscape-like cirque! From a second pass, beneath Igelskopf peak, we descended into a second more remote cirque as made our way down to Ehrwalder Alm for lunch. We then enjoyed hiking the terraces of the majestic Sella and its vast lunar upland! We returned to the edge of Ehrwald and spent the night at Pension Tannenhof [3,280']. 11.6 miles with 2,627' elevation gain.

Day 4: This was an awesome day, which covered incredibly varied landscapes! We took a short train ride to this morning's showstopper – Hell's Valley Gorge! We explored this dramatic and tight-walled gorge via a series of engineered footpaths, tunnels, steps and bridges. We had lunch at Hollentalangerhutte, serving excellent food on its large terrace offering expansive views of the dramatic valley beneath the Zugspitze glacier and summit! We then took an impressive balcony footpath with sections of fixed cable to bring us high above the gorge to Hupfleintenjoch. While we were resting, a local hiker recommended we summit up the nearby Schwarzenkop, which was well worth it for the views! We had one more summit to do as we made our way up to Ostfelderkopf with a wooden cross [6,233']. We then descended to our hut for the night, Kreuzeckhaus [5,416']. 8.5 miles with 5,314' elevation gain.

Day 5: This cloudy day was first spent descending a balcony path bringing us to the valley bottom of the Riental valley, a deep valley that almost dissects the Wetterstein range. We encountered some cattle blocking the trail so we maneuvered carefully around them. Passing alongside the crystal-clear w']aters of the Partnach river, we steadily ascended as reached our lunch stop for the day, Reintalanger Hutte. After lunch we continued up a steep zigzagging path to the top of the headwall where the impressively perched Knorhutte [6,726'], was awaiting for us. 9.3 miles with 3,638' elevation gain.

Day 6: Our sights were set on the summit of Zugspitze [9,717'] today. It was cloudy. Someone we met at the hut who had summited the day before, indicated that some members of his group would not have taken the route in cloudy weather, due to difficulty of following the trail. To play it safe, we decided to not to summit and hike back down. The pictures we posted of Zugspitze is when we took a cable car up on a clear, sunny day, upon our arrival at Ehrwald. Our descent has us traverse across the base of the Zugspitze bowl, high above yesterday's Reintal valley, and passed through Gatterl; the old border gate between Germany and Austria. We descended into more open pastureland passing working farms and huts until we reached Ehrwald Alm once more for lunch. Three of us took the cable car down, while Richard and Bob decided to hike back down to our hotel in Ehrwald to complete the trek.
- The Trip Has No Photos -
What Members Are Saying About This Trip/Event
Wow. Terrific photos. It looks like a memorable trip. Thanks for posting the pictures so we could all enjoy the spectacular views of the area. - golivergo5
Members That Participated
Gandalf
Outdoor Fitness Level: Very Strenuous
Thornton, NH
United States
Online Status: OFFLINE
Last Login: 09/27/2023 08:52 PM
Member Since: 08/20/2001
JDNnh
Outdoor Fitness Level: Very Strenuous
Thornton, NH
United States
Online Status: OFFLINE
Last Login: 09/11/2023 11:12 AM
Member Since: 10/30/2001
Richardg
Outdoor Fitness Level: Strenuous
NYC/Hudson Valley, NY
United States
Online Status: OFFLINE
Last Login: 09/27/2023 11:27 PM
Member Since: 09/23/2013
Driving My Own Car


(Willing to give guys a ride)

Comment: See you there!
Bobcat
Outdoor Fitness Level: Strenuous
Upton, MA
United States
Online Status: OFFLINE
Last Login: 09/27/2023 09:30 PM
Member Since: 12/16/2008
dpbyrnes
Outdoor Fitness Level: Moderate to Strenuous
Ipswich, MA
United States
Online Status: OFFLINE
Last Login: 09/10/2023 12:03 PM
Member Since: 01/24/2009
<