The Sugarloaves
Hiking/Walk DATE: 04/07/2018 - 04/07/2018
Trip/Event Location: Twin Mountain, NH
US
Trip Leader(s): Gandalf
Max # People: 15
Trip Guiding / Event Fee: No, I will not be asking participants for money
Difficulty Level: Moderate
The open ledges on the summits are spectacular! Both North [2310'] and Middle Sugarloaf [2539'] have treeless summits and views. Except for some bushes and scrub spruces on Middle
...
Driving directions to the location and spot to meet at:
From I-93 just past Cannon Mountain take exit 35 onto US Route 3. Continue to the junction with US Route 302. Make a right onto 302 and watch for the Zealand campground on your right. The parking lot is across the road to your left. We will be driving a blue Toyota Tacoma truck.


Trip Report/Photos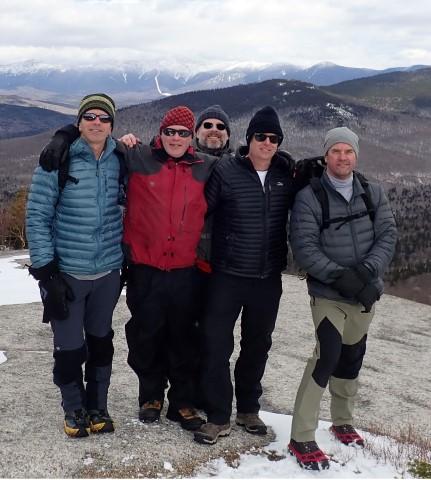 Middle Sugarloaf Mountain
Elevation: 2,539 ft.
North Sugarloaf Mountain
Elevation: 2,310 ft.
Trails: Zealand Road, Trestle Trail, Sugarloaf Trail
Elevation Gain: 1,135 ft.
Distance: 5.4 miles roundtrip
Duration: 4 hours
We were looking forward to this particular hike! First off, this would be our first spring hike. Secondly, these two peaks were down the road from Mt. Washington and if the weather cooperated, we would have views of the snow topped giant. Well, we weren't disappointed. For just a modest hiking effort, there are spectacular views of Mt. Washington from both Sugarloafs!
The Zealand road is closed during the winter, so we met our group in the parking lot. It was very windy so after our welcome hugs we did not linger for very long. As we got onto the road we noticed there was a sheet of ice hidden beneath the 2 inches of fresh snow so put on our MicroSpikes.
We walked up the road to the Trestle Trail. This trail took us along the Zealand River until we came to the Sugarloaf Trail split. Another 0.9 miles took our group through a large granite boulder field and uphill to the saddle of the Middle and North Sugarloafs.
We chose Middle Sugarloaf to ascend first and made our way to the summit. The sun was out as you can tell by photos. The views from all angles were stunning. The summit is open and made of many layers of granite slab. We were able to get western views into Vermont and able to pick up Mount Mansfield [Stowe Ski area] and Jay Peak! We were even able to get a photo of the North Sugarloaf summit, our next destination!
It was very windy so we sought out a sheltered location for lunch, relaxing and getting more photos in. We hiked back down to the saddle of the Middle and North Sugarloafs and continued to the North Sugarloaf. The trail took us around the summit and below its ledges. Near the summit the trail got steeper and the going got tricky, especially when the trail was all ice.
North Sugarloaf views were not as expansive but we still had some from a ledge. The large granite ledges provided a perfect place for a brief rest and more photos. The day wrapped up sometime shortly around 3:30pm. Jim drove back to our house where Jon cooked up another of his delicious dinners and we enjoyed good cheers around a roaring fire.
This was such a brilliant day – we had so much fun and a huge thanks to Jim, Phil and Chuck for keeping this day fun, bright and full of energy. Cheers gentlemen – we will be seeing you on the trails soon.
Mike and Jon
There are 58 photos in Album (Note: Move mouse pointer over larger pic and click on NEXT for better viewing)
Members That Participated
Gandalf
Outdoor Fitness Level: Very Strenuous
Thornton, NH
United States
Online Status: OFFLINE
Last Login: 09/27/2023 08:52 PM
Member Since: 08/20/2001
JDNnh
Outdoor Fitness Level: Very Strenuous
Thornton, NH
United States
Online Status: OFFLINE
Last Login: 09/11/2023 11:12 AM
Member Since: 10/30/2001
guest member
jconroy
Outdoor Fitness Level: Moderate
Beverly, MA
United States
Online Status: OFFLINE
Last Login: 09/23/2023 09:44 PM
Member Since: 04/11/2009
guest member
Philip
Outdoor Fitness Level: Moderate
Tuftonboro, NH
United States
Online Status: OFFLINE
Last Login: 09/13/2021 10:42 AM
Member Since: 02/08/2016
Cblaiz
Outdoor Fitness Level: Moderate
Manchester, NH
United States
Online Status: OFFLINE
Last Login: 01/21/2023 08:02 PM
Member Since: 09/10/2016
<