Hiking Adventures @ Mountainside
Other DATE: 06/24/2022 - 06/26/2022
Trip/Event Location: Hinsdale , NH

Trip Leader(s): nhclimber03264
Max # People: 50
Trip Guiding / Event Fee: No, I will not be asking participants for money
Difficulty Level: Easy to Moderate
Please come and join in a weekend of camping and adventures at Mountainside Campground, located in southeastern (Hinsdale) New Hampshire. The campground has a variety of options including tent
...
Driving directions to the location and spot to meet at:
Mountainside campground is located in Hinsdale, NH, and is easily accessed from I-91 and Rt. 119. To maintain privacy, the campground owners have a policy of only releasing their address when you book your stay. They will be happy to assist you with directions at that time. This campground requires reservations. You may make reservations by phone or email. Book early if you want to reserve lodging such as a cabin or bunkhouse bed. All reservations and funds will go through the campground and NOT the leader of this activity. Please contact Mountainside directly regarding reservations.
Email: www.mountainsidenh.com
Phone: 603-398-7871
Day-tippers are more than welcome to join us at the trail head parking lots.
Trail head directions will be posted 2 weeks prior.
Trip Report/Photos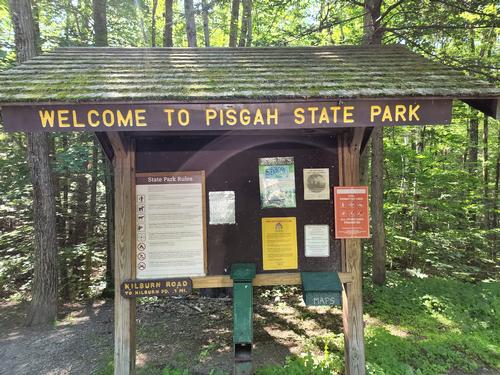 First weekend of summer brought travelers from all over New England and New York to Mountainside Campground in Hinsdale NH for a great weekend. GO hikers along with Mountainside guests ventured into Pisgah State Park seeking Mt Pisgah and Kilburn Pond. The weather was perfect and the comradery was great. 2.2 miles to the open ledges along the ridge gave way to great views. Few blueberries were ready for the picking and a bumper crop will be ripe in just a couple weeks. Hilers then completed the Kilburn Pond Loop. The park offers many trail options (year round) and combinations. Beautiful ponds, streams and ledges scattered through out. The groups came together for a potluck meal and campfires. A few ventured out to the night woods to explore the wilderness at night seeking wildlife. Accomidations were ideal and provided a variety of options. HUGE thank you to the owners of Mountainside for providing a welcoming atmosphere and their unconditional support through out the weekend. Mountainside and Pisgah State Park are amazing hidden gems that should be explored. If you feel you missed out on this oppertunity another weekend is scheduled for MODERATE to STRENOUS hikers on July 22 and 23.
There are 32 photos in Album (Note: Move mouse pointer over larger pic and click on NEXT for better viewing)
Members That Participated
nhclimber03264
Outdoor Fitness Level: Moderate to Strenuous
Plymouth, NH
United States
Online Status: OFFLINE
Last Login: 09/22/2023 04:37 PM
Member Since: 10/09/2019
vwgreg
Outdoor Fitness Level: Moderate
Enfield, CT
United States
Online Status: OFFLINE
Last Login: 09/22/2023 08:05 AM
Member Since: 09/16/2002
jfriedman
Outdoor Fitness Level: Moderate
Warren, VT
United States
Online Status: OFFLINE
Last Login: 07/16/2023 08:21 PM
Member Since: 09/09/2021
spiritman
Outdoor Fitness Level: Moderate to Strenuous
Providence, RI
United States
Online Status: OFFLINE
Last Login: 06/09/2023 11:44 PM
Member Since: 03/01/2015
markus24
Outdoor Fitness Level: Moderate to Strenuous
Gilmanton IW, NH
United States
Online Status: OFFLINE
Last Login: 02/28/2023 04:21 PM
Member Since: 08/29/2009
WalkaboutBrian
Outdoor Fitness Level: Moderate to Strenuous
Gilmanton IW, NH
United States
Online Status: OFFLINE
Last Login: 07/24/2022 12:09 PM
Member Since: 02/17/2009
HikerLegs
Outdoor Fitness Level: Moderate
South Burlington, VT
United States
Online Status: OFFLINE
Last Login: 07/23/2023 10:03 PM
Member Since: 03/03/2002
NashuaGuy
Outdoor Fitness Level: Easy to Moderate
Nashua, NH
United States
Online Status: OFFLINE
Last Login: 05/30/2023 07:13 AM
Member Since: 01/11/2022
<