GET WINTER INTRO HIKE #3: MT. PEMIGEWASSET
Half Day Hike
DATE: Jan 15, 2022

END DATE: Jan 15, 2022

Hike/Event Location: Lincoln NH
Trip Leader(s)
Gandalf
Thornton, NH United States,
JDNnh
Manchester, NH United States
Meeting Time: 10:30 AM
Max # People: 10
Hike Guiding / Event Fee: No, I will not be asking participants for money
Hike Difficulty Level:
Moderate
(Do you qualify to attend with this hike difficulty rating? Click Here.)
Sign Up To This Trip/Event
You must be a least a guest member to participate. Comments such as "+1" or "bringing a friend" are NOT permitted. All participants must sign-up for the event individually.
Select your mode of transportation, make any comments and then click on button.
You are not logged in.
Please, Log In
Disclaimer: The club and its members take no responsibility and will not be held responsible for any injuries or accidents that may occur during club events. Outdoor sports are inherently dangerous and accidents will happen. By joining the club or participating in any events posted on our website you are taking responsibility for your own safety and well-being. Anyone with an internet connection can post a trip on our web site. It is your responsibility to determine if this person has the experience and competence to lead the trip. We do not certify or confirm the qualifications of any of our members to lead or participate in trips.
Summary
Our third of five winter introduction hikes to ease you into winter hiking leading to ascending your first winter 4,000 footer! MicroSpikes required, insulated winter hiking boots recommended and snowshoes may be needed. We'll let you know a few days before if snowshoes will be needed.
The summit of Mount Pemigewasset's [2,557 feet] has excellent views from Indian Head Cliff for a modest effort! The Indian Head Cliff nets us a panorama southward over the Pemigewasset River Valley, with Mt. Wolf and Mt. Moosilauke looming in the southwest. We'll be taking the Mt. Pemigewasset Trail up and back.
The entire hike is only 3.5 miles with 1,250 feet elevation gain. We'll have lunch on the summit. Start time is 10:30 AM.
Don't forget to wear warm layers [NO COTTON OR BLUE JEANS], gloves, warm hat, rain/wind shell, water, lunch, snacks, and anything else you would bring for a cold weather hike. We are packing hand warmers for our gloves. The trail will be covered with snow and ice so a traction device of some sort like MicroSpikes is required. Winter insulated boots to keep your feet and toes warm recommended. We'll let you know if snowshoes will be required a few days before the hike. Since this is an introduction series, please don't hesitate to contact us if you have any questions on the clothing and gear to bring!
Après Hiking Dinner: Everyone is welcome to join us back at our house in Waterville Valley if you provide us proof of vaccination to relax beside our fireplace with views of the Sandwich Mountain/Mad River [BYOB and bring snacks] followed by one of Jon's delicious dinners. We ask $10 per person to help pay for our food costs. Showers are available so bring a change of clothing to make your visit with us more comfortable.
Lodging Option: Bunk beds are available at our house [with Wi Fi] near Waterville Valley, NH for Friday and/or Saturday night if you provide us proof of vaccination. Its $25 for Friday night and $35 for Saturday that includes dinner [$60 for the weekend]. Coffee/bagels each morning and linen/blankets/towels are provided. Space is limited so email ASAP to reserve a bunk!
Directions To Trailhead Parking Lot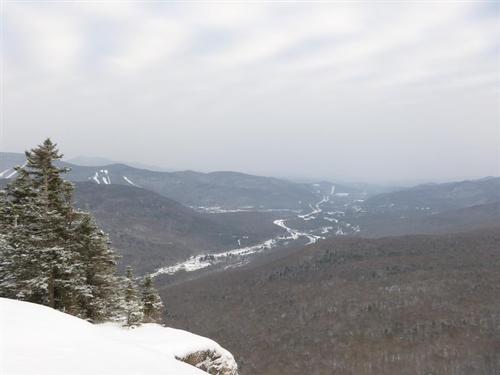 Trailhead and parking area are at the Flume Gorge in Lincoln, NH. The Flume Gorge is accessed from exit 34A on Rt. 93. Park on the north (left) side of the parking area to easily access the bike path. We'll be driving a blue Toyota Tacoma truck.
Trip Leader(s)
Gandalf
Outdoor Fitness Level: Very Strenuous
Thornton, NH
United States
Online Status: OFFLINE
Last Login: 11/30/2021 09:06 PM
Member Since: 08/20/2001
JDNnh
Outdoor Fitness Level: Very Strenuous
Manchester, NH
United States
Online Status: OFFLINE
Last Login: 10/17/2021 09:39 AM
Member Since: 10/30/2001
members signed up for this event
regularguyma
Outdoor Fitness Level: Moderate
BOSTON, MA
United States
Online Status: OFFLINE
Last Login: 11/30/2021 10:35 AM
Member Since: 10/08/2003
Driving My Own Car


(Willing to give guys a ride)
Russell
Outdoor Fitness Level: Strenuous
Newtonville, MA
United States
Online Status: OFFLINE
Last Login: 11/30/2021 05:56 PM
Member Since: 03/08/2021
Driving My Own Car


(Willing to give guys a ride)
mecyclingrunner
Outdoor Fitness Level: Moderate to Strenuous
LEWISTON, ME
United States
Online Status: OFFLINE
Last Login: 11/30/2021 03:26 PM
Member Since: 07/22/2018
Driving My Own Car


(Possibly willing to give guys a ride)
promeneur
Outdoor Fitness Level: Moderate
Nashua, NH
United States
Online Status: OFFLINE
Last Login: 11/30/2021 11:49 AM
Member Since: 02/08/2021
Driving My Own Car


(Possibly willing to give guys a ride)
JR
Outdoor Fitness Level: Strenuous
Boston, MA
United States
Online Status: OFFLINE
Last Login: 11/28/2021 03:37 PM
Member Since: 10/18/2004
Driving My Own Car


(Possibly willing to give guys a ride)
Eupatorium
Outdoor Fitness Level: Moderate to Strenuous
Alexandria, VA
United States
Online Status: OFFLINE
Last Login: 11/30/2021 08:03 PM
Member Since: 01/01/2011
Driving My Own Car


(Willing to give guys a ride)
guest member
bostonsk8
Outdoor Fitness Level: Moderate
Berlin, NH
United States
Online Status: OFFLINE
Last Login: 11/30/2021 11:49 AM
Member Since: 04/23/2017
Driving My Own Car


(Willing to give guys a ride)
jmahoney
Outdoor Fitness Level: Moderate to Strenuous
Boston, MA
United States
Online Status: OFFLINE
Last Login: 11/21/2021 11:53 AM
Member Since: 07/19/2018
Driving My Own Car


(Willing to give guys a ride)
Waiting list
sustaining member
KeithES
Outdoor Fitness Level: Moderate
Jamaica Plain, MA
United States
Online Status: OFFLINE
Last Login: 11/19/2021 09:05 PM
Member Since: 07/16/2019
Driving My Own Car


(Willing to give guys a ride)
Ricardo
Outdoor Fitness Level: Moderate to Strenuous
Boston, MA
United States
Online Status: OFFLINE
Last Login: 11/26/2021 05:09 PM
Member Since: 05/24/2020
Driving My Own Car


(Possibly willing to give guys a ride)
Discuss This Trip/Event