VISIT US AT BOSTON PRIDE JUNE 11th
June is Gay Pride Month, a wonderful opportunity to affirm, celebrate and come together as individuals and as a community...to show our strength, our diversity and our pride in who we are. Unfurl the rainbow flag, pour on the body glitter and clear your social calendar. New England's largest Pride week is here, and you can expect GayOutdoors to be there!
In fact, 2016's theme, "Solidarity Through Pride" nods to the importance of discussing intersectionality - the overlapping of sexuality and gender with race, class, and other social identities such as gay/bi men who enjoy outdoor recreation. We are all part of building a broader LGBT equality movement!
On June 11th, we'll be at Government Center for the Boston Pride Festival with a booth to promote the club and recruit new members. This is the first year we're hosting a booth during Pride Week. Pride has become a bit like a national holiday ~ and we think there will be a whole lot of friends, family members and supporters who want to join the celebration this year!
The Pride Parade finishes up here and there will thousands of people. The Festival has musical performances, short speeches, food, and many vendors promoting themselves to LGBT community. So, if you are in the vicinity, please drop in to say hello and show your support!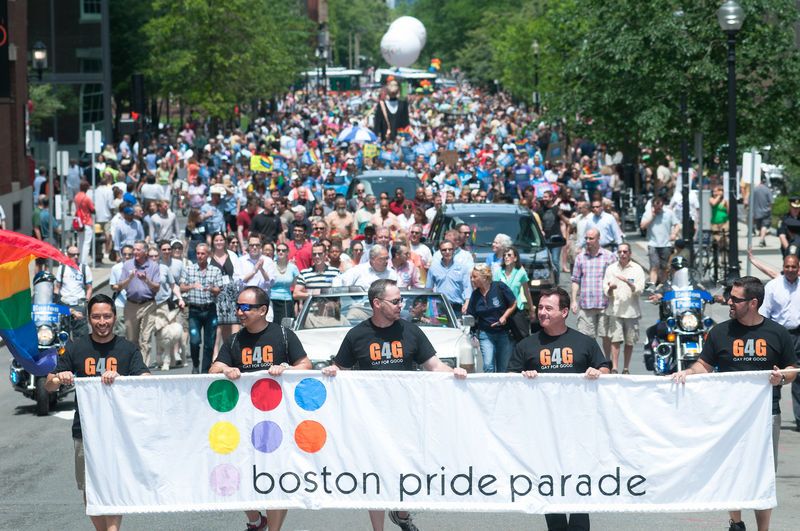 Look for our GO Banners to find us! We'll have a display of pictures from past trips, current events calendar and promotional brochures/business cards to pick up. We'll have mobile devices to help sign up new members immediately. We'll have our rainbow themed t-shirts and hats on sale to help you show your pride on this special day! The most important thing is that we'll have members on site to promote the club and answer any questions!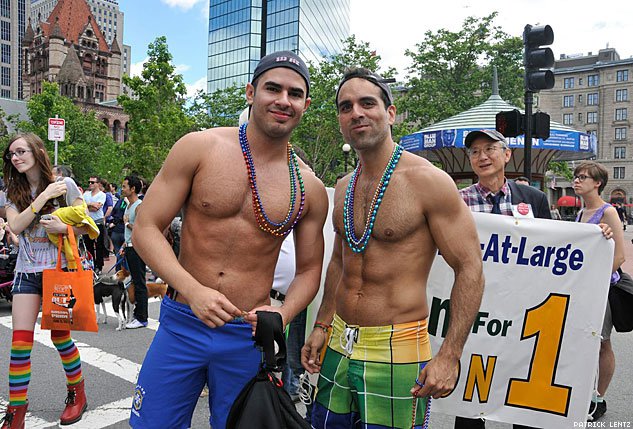 Tony Chase, who is coordinating this, has put together a great assortment of raffle prizes and anyone who visits our booth can enter. Raffle prizes include a 2 night certificate at Branch Brook Campground that includes a t-shirt and water bottle [this is the same campground we use for the GO Gathering], 4 books (AMC's Best Hikes in the White Mountains, Waterfalls of the White Mountains, 60 Hikes within 60 Miles of Boston and Discover the White Mountains of NH), 4-pack Revolutions tickets [Soccer Team at Gillette Stadium], $50 EMS gift certificate, GO t-shirts, GO hats, and upgrades to a full membership! Sorry guys, these two handsome men are not part of raffle. :-(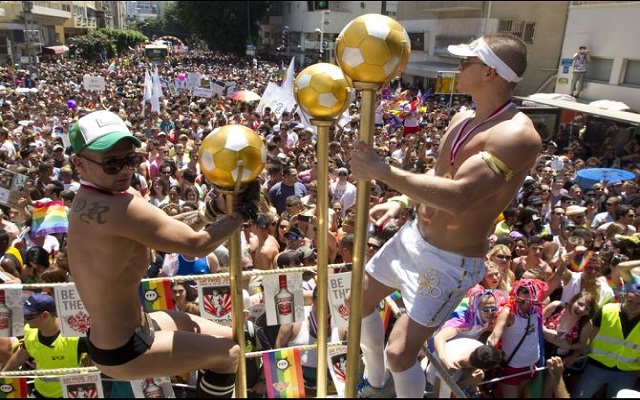 Everyone truly is welcome. If you have a half hour to spare, we would love for you to get in our booth to promote the club! If you would like to do more, than please visit our Boston Pride page on the website and sign up. Tony will contact you to let you know how you can help.
Happy Pride,
GayOutdoors
© 2022 Gay Outdoors ; All Rights Reserved.