Jennings Peak Hike
Hiking/Walk DATE: 09/29/2018 - 09/29/2018
Trip/Event Location: Waterville Valley, NH
US
Trip Leader(s): tdefauw , jkelaghan
Max # People: 15
Trip Guiding / Event Fee: No, I will not be asking participants for money
Difficulty Level: Moderate to Strenuous
Join us for this beautiful 7 mile hike with 2000 feet of elevation gain to Jennings Peak in Waterville Valley. We will meet at 10 am at the trailhead for ... Driving directions to the location and spot to meet at:
We will meet at the trailhead at 10 am. From I-93, take exit 28, Rt 49 towards Waterville Valley. The trailhead is 0.4 miles before the junction with Tripoli Road on the right hand side. If anybody would like to carpool from Plymouth, NH, please let us know.
Trip Report/Photos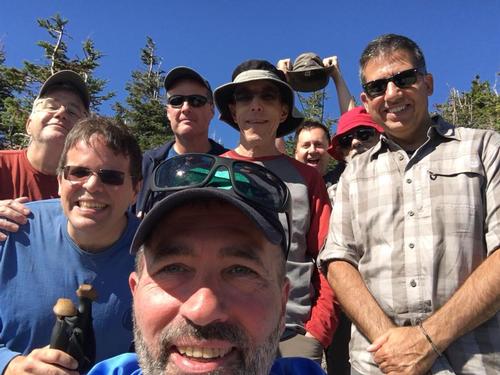 We had a great group of guys and a great hike to Jennings Peak on Saturday 9/29. It was a perfect early fall day, sunny and high of around 65. We started out around 10 am and got the most difficult part of the hike done first on the Sandwich Mountain trail to Noon Peak. After Noon Peak it was noticeably easier with some minor ups and downs and some ledge walking. Past the intersection with the Drakes Brook trail we went on the spur to Jennings Peak for the last uphill push to the summit where we enjoyed a leasurely lunch and soaked in the views. Coming back down we did the Drakes Brook trail, a much more gentle way down and following the stream (Drakes Brook) most of the way down. We then convened at the Mad River Coffee house for continued conversation and beverages. Thanks to everyone that came (Joe, Dave, Wayne, Randy, Todd, Rick, and Barrie), and hope to see you in the great outdoors sometime soon.
There are 3 photos in Album (Note: Move mouse pointer over larger pic and click on NEXT for better viewing)


Members That Participated
tdefauw
Outdoor Fitness Level: Moderate to Strenuous
Plymouth, NH
United States
Online Status: OFFLINE
Last Login: 11/07/2018 08:55 PM
Member Since: 10/30/2001
jkelaghan
Outdoor Fitness Level: Moderate
Plymouth, NH
United States
Online Status: OFFLINE
Last Login: 12/03/2018 11:43 AM
Member Since: 10/02/2002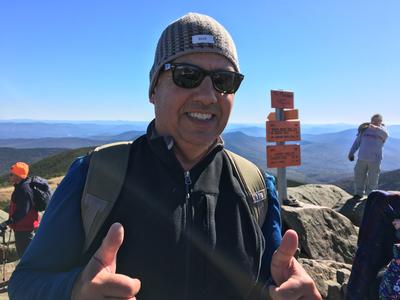 guest member
WMcAuliffe
Outdoor Fitness Level: Moderate
North Grafton, MA
United States
Online Status: OFFLINE
Last Login: 09/14/2018 03:07 PM
Member Since: 02/04/2018
Driving My Own Car
(Possibly willing to give guys a ride)
Comment: Looking forward to a great hike.
guest member
Stargazer36
Outdoor Fitness Level: Moderate to Strenuous
Rumney, NH
United States
Online Status: OFFLINE
Last Login: 11/08/2018 09:31 PM
Member Since: 02/03/2018
guest member
dnowell
Outdoor Fitness Level: Moderate
worcester, MA
United States
Online Status: OFFLINE
Last Login: 09/16/2018 08:41 PM
Member Since: 10/30/2001
HikerBiker
Outdoor Fitness Level: Moderate to Strenuous
Londonderry, NH
United States
Online Status: OFFLINE
Last Login: 12/11/2018 05:25 PM
Member Since: 02/23/2003
Dell
Outdoor Fitness Level: Moderate to Strenuous
Haverhill, MA
United States
Online Status: OFFLINE
Last Login: 12/12/2018 07:50 AM
Member Since: 04/23/2016
<