Turkey Run Park
Hiking/Walk DATE: 04/01/2018 - 04/01/2018
Trip/Event Location: McLean, VA
US
Trip Leader(s): Robert.L , Eupatorium
Max # People: 12
Trip Guiding / Event Fee: No, I will not be asking participants for money
Difficulty Level: Easy
Join us for an unstructured day of easy hiking exploring Turkey Run Park. The park is located within The George Washington Memorial Parkway. The parkway was designed for recreational dr... Driving directions to the location and spot to meet at:
From I 495 take exit 43 and merge onto the George Washington Memorial Parkway. Take the exit for Turkey Run Park. Turn left at the sign on the exit ramp to enter the park.
From the northbound George Washington Memorial Parkway take the exit for Turkey Run Park. Turn right at the sign on the exit ramp to enter the park.
Here's a link to the map https://www.nps.gov/gwmp/planyourvisit/upload/Turkey-Run-Park-map.pdf
Parking is available in each of the picnic areas in the park. We will meet at parking/picnic area C-2.
Trip Report/Photos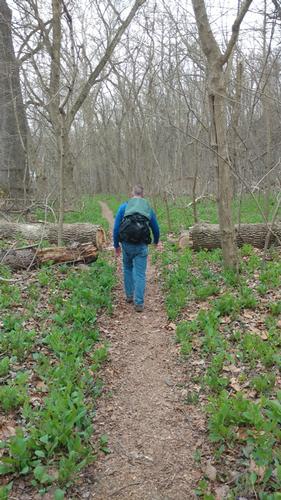 Sunday came just a bit later than Saturday – although not by much, lol. At least on this journey to the trail head we were just outside of city limits so we had far less road to travel – at least by car.
Shenandoah (March 31 Hike) was Nate's first hike in a bit of time so he was feeling the prior day's journey. We pledged to keep it simple since this was posted as an "unstructured" exploration of Turkey Run Park. Well… not so much…. I estimate we hiked roughly 9 miles round trip – sorry Nate – we gotta get those miles in, lol. The park, however, had only minor ups and downs and was largely flat. It was a perfect second day hike though under cloudy skies, yet, quite warm.
Ed had signed up for Turkey Run but opted to skip in favor of spending some quality time with his puppy. I know the drill – our four legged friends need us too! We missed him though!
Spring was much further along on the Potomac – we got lots of wildflowers in – though the overall scenery was much like the day before…. light buds of red and lime green awaiting explosion to full growth. I probably drove Nate and Dan crazy with my "it's just a tad greener than yesterday", lol.
Flowers we spotted this day included Virginia Blue Bells, Blood Root, Trout Lilly, Hepatica and Toothwart. We took in a few birds as well… Vultures, Blue Jays, Hermit Thrush, Canadian Geese, Fish Crows and Cormorants. Nate brought his binoculars so we got to view them up close.
The day consisted of walking Turkey Run then venturing towards Fort Marcy with lunch somewhere in between. Whether we made Fort Marcy or not wasn't the goal – we'd agreed on a 2:00pm turnaround time. Well… we nudged along to Fort Marcy anyhow – how could we not. Before reaching the earthen remnants of Fort Marcy the trail took us away from the Potomac and like all good "urban" hikes landed us next to the highway. It was short lived. Dan and Nate periodically raced one another – Dan was deeply engaged with his Fit Bit. Unbeknownst to us he was in a competition with his Department Chair to get the most steps in so he was rocking the trail.
In addition to driving my hiker buds nuts with my "it's just a bit greener than yesterday" we talked life, love, politics, sex, diversity, among other things and emerged smiling and still friends!
We even got to see a few deer though they were precariously tucked between the river and the highway – I was thinking probably not the best place to call home. Our cute special friend was "trailing" us again today and like in Shenandoah – a Lindt Chocolate Bar goes to the finder of this beautiful creature. The catch is you'll have to join one of my hikes to receive the chocolate!! No double dipping, Turkey Run requires a new winner!!
The day wrapped up sometime shortly after 4pm. We made our way back into Alexandria to the Majestic where we dined and enjoyed a last round of good cheers and good company before heading back home.
This was such a brilliant weekend – I had so much fun and a huge thanks to Nate and Dan for keeping this day fun, bright and full of energy. Cheers gentlemen – I will be seeing you on the trails soon. Cheers!
There are 49 photos in Album (Note: Move mouse pointer over larger pic and click on NEXT for better viewing)
Members That Participated
Robert.L
Outdoor Fitness Level: Strenuous
Spencer, MA
United States
Online Status: OFFLINE
Last Login: 03/25/2019 12:51 PM
Member Since: 09/07/2014
Eupatorium
Outdoor Fitness Level: Strenuous
Alexandria, VA
United States
Online Status: OFFLINE
Last Login: 03/10/2019 10:11 PM
Member Since: 01/01/2011
EddiePPT
Outdoor Fitness Level: Moderate to Strenuous
Cincinnati, OH
United States
Online Status: OFFLINE
Last Login: 03/25/2019 01:13 PM
Member Since: 03/05/2018
beyoungyu
Outdoor Fitness Level: Moderate to Strenuous
Harrisburg, PA
United States
Online Status: OFFLINE
Last Login: 03/19/2019 09:57 AM
Member Since: 01/05/2002
<