Mt. Washington via Boott Spurt
Hiking/Walk DATE: 08/20/2017 - 08/20/2017
Trip/Event Location: Gorham, NH
US
Trip Leader(s): Gandalf
Max # People: 15
Trip Guiding / Event Fee: No, I will not be asking participants for money
Difficulty Level: Very Strenuous
FUN hike on this 6,000 footer in the Presidential Range and the highest peak in the Northeast!
At 6,288 ft. Mt. Washington is the tallest of the NH 4,000 footers and the highest in all of... Driving directions to the location and spot to meet at:
We will be meeting at the porch at the AMC Pinkham Notch Visitor Center; located on the west side off NH 16 at the height-of-land in Pinkham Notch, 10.6 miles south of US 2 in Gorham and 12 miles north of US 302 in Glen. This is the busiest trailhead in the White Mountains. There is ample parking.
Trip Report/Photos
Starting from Pinkham Notch (2022') at 8:00am we moved up the Tuckerman Ravine trail. We were greeted by Lester, Luciano's partner, who would await our return. The Boot Spur trail picks up off Tuckerman after just a few minutes and is well marked by a sign posted to a tree.
For the most part, the trail stays in a pretty wooded area and there are not many BIG views of the valleys and mountains (until you clear the tree line). We did come across two small lookouts. At 1.4 miles in, there was side path to a stand-up view of Huntington Ravine and at 2.1 miles a side trail led to Harvard Rock, with a fine view into Tuckerman Ravine with all its glory, Wildcats and Carters. We felt the full force of the wind at this lookout and got a preview of what was to come!
Don't expect to be traveling on a well-traveled dirt path trail; this entire loop is 90% rock. The rocks vary in size but most of them are large (bigger than 1 or 2 feet in diameter). ROCK ON!!!

Right before reaching treeline, since the wind had picked up some of us threw on our shell jackets; except for Jon who was thinking of going shirtless! We passed Split Rock (4337') at about 10:30am, which meant we had climbed 2300' in 2 ½ hours. We paused here to take pictures of our version of doing the "spider wall" from American Ninja Warrior.
After passing Split Rock, the trail leaves behind the timberline and it became very windy going up the spur. We are guessing it was around 40 mph and we began to encounter thickening clouds. Everybody was doing great with handling these weather conditions! We picked up Davis trail at 11:30pm leading us across the Bigelow Lawn toward the summit. This led to the Crawford Path for the main summit push. Going up the main mass of the summit mound is a bit tricky as we picked our way around huge rocks and boulders with winds at this point near 60mph. All of these trails were well marked with cairns. We were covered in thick clouds the entire time on the Davis Path to the summit.
We hit the top of the summit, about 12:45pm. As we had come up the main summit mound we saw numerous people. Tourists were scrambling all over the place, especially crowding the summit sign for pictures. It was a bit overwhelming to see the crowds at first since we had spent most of the day seeing few people making us think we would have the summit all to ourselves. Of course, this is Mt. Washington, wishful thinking at best!
Of course we ran up for our commemorative summit shot and because of the weather there was not a long line to wait. Bonus! Once in the summit building, some of us submitted to the commercialization and had a bowl of chili in the hiker's pack room downstairs.

We stayed on the summit for about 45 minutes and then left the summit via Tuckerman Ravine. We just missed Steve, Tom and Bailey who arrived 10 minutes later. Heading down Tuckerman Ravine the wind was decreasing with the summit cone protecting us. Further down, we could the clouds disappearing.
From the Headwall to the base of Tuck's is tricky with a little scrambling here and there. Nothing too difficult but one slip could end in a head smashing fall or injured leg quite easily. The hike down Tuck's for me was a real bastard on the knees.
There were still beautiful wildflowers in the ravine and waterfalls. We reached Hermit Lake uneventfully. We left the summit at 1:30pm and got to Hermit Lake at 3:15pm. We relaxed a while and chatting with other hikers.

I rock hopped all the way down and limped my aching right knee back to the truck at Pinkham Notch at 5:00pm. A shot of caffeine for the drive back and I was shouting "wheeee" on the turns on the Kancamagus Highway. Everyone in the truck wanted what I had in my coffee. Life is good!
Another epic hike! Jon and Mike's favorite. Rob, Jim and Luciano were perfect company for this venture across the cloud covered Bigelow Lawn in 60mph wind! Congrats to Jim on his reaching Mt. Washington for the first time.
Mike Boisvert
There are 80 photos in Album (Note: Move mouse pointer over larger pic and click on NEXT for better viewing)
Members That Participated
Gandalf
Outdoor Fitness Level: Very Strenuous
Campton, NH
United States
Online Status: OFFLINE
Last Login: 07/12/2018 11:30 PM
Member Since: 08/20/2001
JDNnh
Outdoor Fitness Level: Very Strenuous
Manchester, NH
United States
Online Status: OFFLINE
Last Login: 06/22/2018 10:15 AM
Member Since: 10/30/2001
Scorpione
Outdoor Fitness Level: Moderate to Strenuous
Boston / Cape Ann, MA
United States
Online Status: OFFLINE
Last Login: 07/15/2018 03:53 PM
Member Since: 07/25/2013
Robert.L
Outdoor Fitness Level: Strenuous
Spencer, MA
United States
Online Status: OFFLINE
Last Login: 07/11/2018 09:22 PM
Member Since: 09/07/2014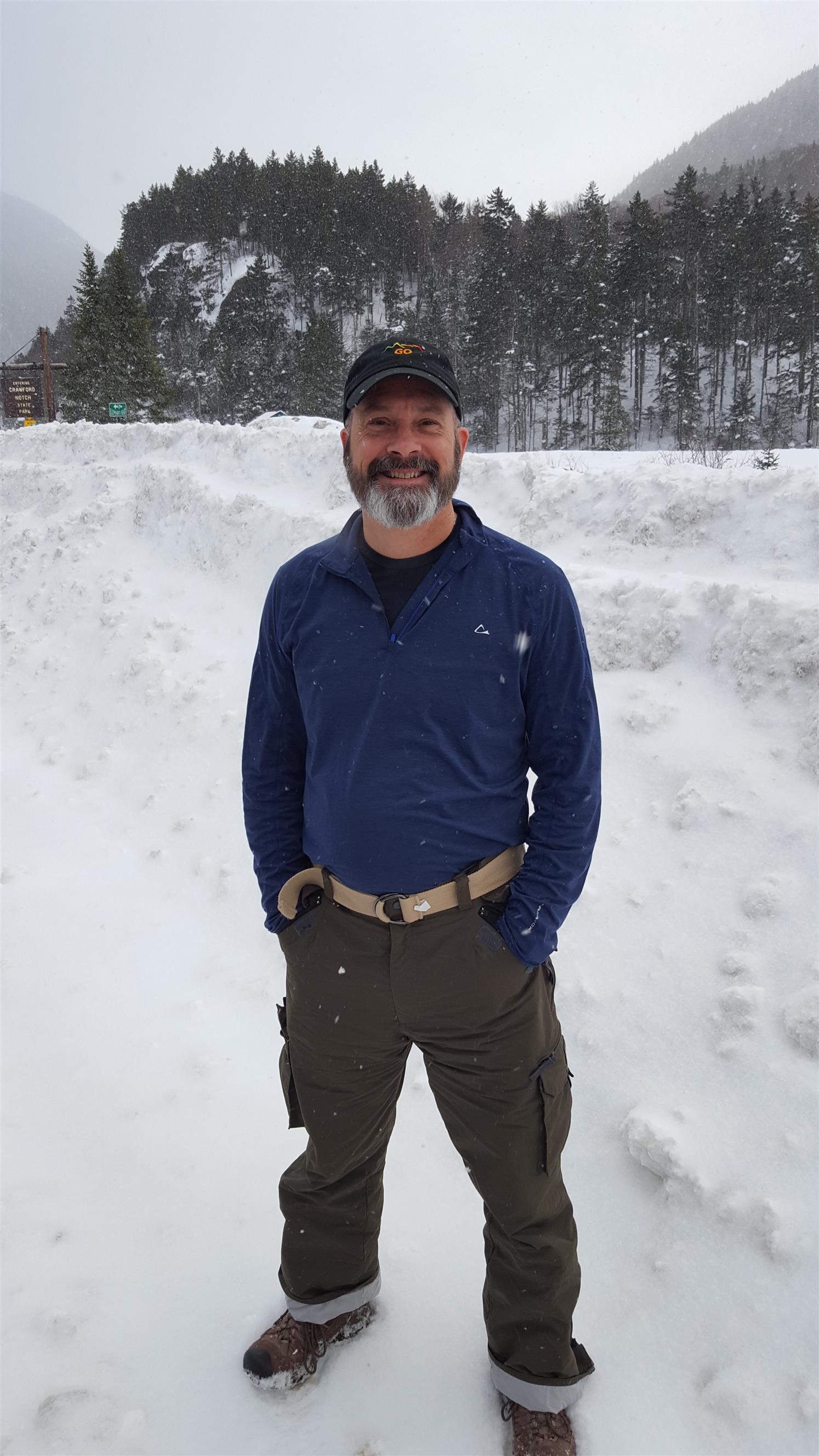 guest member
jim.mc
Outdoor Fitness Level: Strenuous
Burlington , VT
United States
Online Status: OFFLINE
Last Login: 01/08/2018 09:08 AM
Member Since: 11/12/2015
Scorpione
Aug 22, 2017 at 7:59 PM
Thank You Mike and Jon, Robert and Jim. Great company is much more important than clear skies. Today, Tuesday, Mt. W. was cloudless and I left the AMC Center with some regret. Not that I would have been able to climb up that soon. Late afternoon yesterday we had a close, long encounter with a lady moose and kid in the lake/swamp in front of the Center. It was a first for me and a thrill. During dinner and bath Mama and kid haughtily dismissed all the onlookers and stopped cars on rte.16.
shep5
Aug 22, 2017 at 7:37 PM
I'm bummed, that we just missed you by only moments! What an exciting day to be atop of Washington!
<