Early Spring Hike in Arnold Arboretum
Hiking/Walk DATE: 03/25/2017 - 03/25/2017
Trip/Event Location: BOSTON, MA
US
Trip Leader(s): emsinjp
Max # People: 25
Trip Guiding / Event Fee: No, I will not be asking participants for money
Difficulty Level: Easy to Moderate
You won't want to miss this beautiful early spring walk through the Arnold Arboretum! Beginning at the main entrance, we'll ramble throughout the entire preserve for about four miles. &nbsp... Driving directions to the location and spot to meet at:
We will meet at the Arnold Arboretum, 125 Arborway, Boston, MA 02130. You can use that address for Google Maps and your GPS. Parking is free along the main road (the Arborway). It's a 10 minute walk from the Forest Hills Station of the MBTA's Orange Line. We will meet at 1 pm on the main steps in front of the brick Adminstration/Bussey Building, which is just inside the main gate at the right.
Trip Report/Photos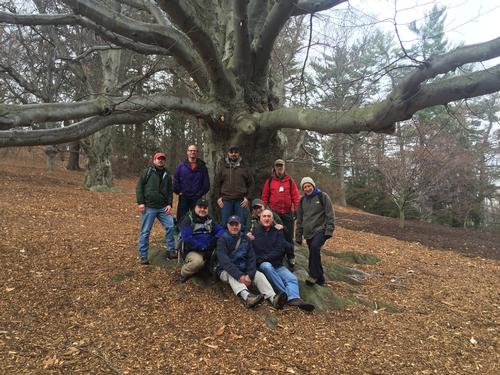 A fun and fascinating time was had by all with our early spring walk through the Arnold Arboretum in Jamaica Plain! Though skies were gray and there was a little bit of precipitation, we managed to walk the entire circumference of the preserve, ascending Peter's and Bussey Hills and some of Hemlock Ridge. We had some great views of the Boston skyline from Peter's Hill, after rambling thru a nearby ancient Colonial burying ground where there is a mass grave of soldiers from the American Revolution. Of course, it being an arboretum, we viewed many of the magnificent specimen trees and observed the nascent signs of spring with catkins, scilla and snowdrop flowers, and flowering cornelian cherry trees. After our roughly 3 1/2 mile walk, we re-grouped at the museum building and a group of us meandered over to bustling Jamaics Plain Center where we schmoozed over delicous Thai food at Wonder Spice. We're already looking forward to the next hike together in the Arnold Arboretum to see what nature will have to show us!
There are 8 photos in Album (Note: Move mouse pointer over larger pic and click on NEXT for better viewing)
Members That Participated
fredthys
Mar 26, 2017 at 8:22 AM
Hi Ed, thank you for a wonderful walk!
<