#rd Saturday Hike: High Bridge Trail
Hiking/Walk
DATE: Apr 21, 2018 Saturday

END DATE: Apr 21, 2018 Saturday

Trip/Event Location: Rice VA
Trip Leader(s)
TrailGuyEric
Chesterfield, VA United States
Meeting Time: 10:00 AM
Max # People: 15
Trip Guiding / Event Fee: No, I will not be asking participants for money
Difficulty Level:
Easy to Moderate
(Do you qualify to attend with this trip difficulty rating? Click Here.)
Region: California/Hawaii
JOIN OUR NEW MEETUP GROUP to increase our exposure and have more guys sign up for our trips: click here to join our MeetUp Group. This trip may be posted at our MeetUp so you can sign up either there or here.
Sign Up To This Trip/Event
You must be a least a guest member to participate. Comments such as "+1" or "bringing a friend" are NOT permitted. All participants must sign-up for the event individually.
Select your mode of transportation, make any comments and then click on button.
You are not logged in.
Please, Log In
Trip Leaders can click here to edit or delete this activity.
Disclaimer: The club and its members take no responsibility and will not be held responsible for any injuries or accidents that may occur during club events. Outdoor sports are inherently dangerous and accidents will happen. By joining the club or participating in any events posted on the GayOutdoors web page you are taking responsibility for your own safety and well-being. Anyone with an internet connection can post a trip on the GayOutdoors web site. It is your responsibility to determine if this person has the experience and competence to lead the trip. GayOutdoors does not certify or confirm the qualifications of any of its members to lead or participate in trips.
Be Prepared: Please be prepared to be self-sufficient. Have your own provisions such as first aid kit, food, water, extra clothing for unplanned weather, etc. Have your EMERGENCY CONTACT SHEET completed and in your backpack; it may save your life, and help reach someone who greatly cares!
Pace: There may be activities when the group is either slower or faster than your current ability. Please know that because this is a group activity, it's hard to accommodate everyone's pace perfectly. Our desire is not to leave anyone, however there have been times when it is in the best interest of all to split up. Please do your part by knowing your own abilities, communicating with the organizer head of time if you would like to start early and have us catch up or fine with finishing on your own.
Summary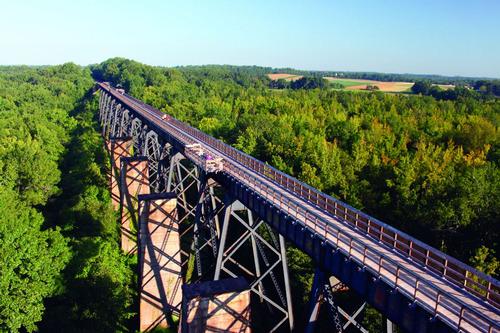 Come join us for one of the last historic places on the route of the retreating General Lee and the Confederate Troops in the last days of the Confederacy. It was a strategic wooden bridge that the Confederates tried to burn down but the Union, hot on their heels, put the fire out saving the old bridge.
High Bridge Trail is 31 miles long and ideally suited for hiking, bicycling and horseback riding. Once a rail bed, the trail is wide, level and generally flat. Its finely crushed limestone surface and dimensions make it easy to enjoy. The park's centerpiece is the majestic High Bridge, which is more than 2,400 feet long and 125 feet above the Appomattox River. It is the longest recreational bridge in Virginia and among the longest in the United States. High Bridge, a Virginia Historic Landmark, is on the National Register of Historic Places. The trail is a National Recreation Trail recognizing exemplary trails of local and regional significance, connecting people to nature, to each other, and to our shared history and culture. Bring drinking water because none is available on the trail.
We'll begin our hike this time from Rice, VA toward the old High Bridge in a nice, easy hike along the old rail-trail. We'll meet at 10:00 A.M. at the High Bridge State Park parking lot in Rice, VA, 244 Railroad Dr. Bring a hat, plenty of water, sunscreen and comfortable shoes. Hike will be about 3 hours and 6 miles.
We can have lunch in Farmville following the hike and walk about the town.
http://www.dcr.virginia.gov/state-parks/high-bridge-trail#general_information
Driving directions to the location and spot to meet at:
Use your GPS for 244 Railroad Dr, Rice, VA 23966 and signs for the High Bridge State Park parking lot which is about ½ mile from Hwy 460 (Prince Edward Highway)
Trip Leader
TrailGuyEric
Outdoor Fitness Level: Moderate to Strenuous
Chesterfield, VA
United States
Online Status: OFFLINE
Last Login: 03/25/2019 07:50 AM
Member Since: 01/08/2003
Approved By: TrailGuyEric
members signed up for this event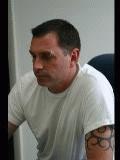 guest member
AK4DR
Outdoor Fitness Level: Moderate to Strenuous
Rustburg, VA
United States
Online Status: OFFLINE
Last Login: 03/11/2019 04:49 PM
Member Since: 06/23/2007
Driving My Own Car


(Willing to give guys a ride)
Jahn
Outdoor Fitness Level: Easy to Moderate
Richmond, VA
United States
Online Status: OFFLINE
Last Login: 03/04/2019 05:08 PM
Member Since: 12/31/2013
Driving My Own Car


(Willing to give guys a ride)
Comment: would like to ride with erik
TJinCville
Outdoor Fitness Level: Easy to Moderate
Charlottesville, VA
United States
Online Status: OFFLINE
Last Login: 03/25/2019 12:07 PM
Member Since: 02/08/2018
Driving My Own Car


(Willing to give guys a ride)
Discuss This Trip/Event