Waterville Valley Cross Country Skiing
Cross-Country Skiing
DATE: Mar 04, 2017

END DATE: Mar 04, 2017

Trip/Event Location: Waterville Valley NH
Trip Leader(s)
Gandalf
Campton, NH United States
Meeting Time: 10:00 AM
Max # People: 15
Trip Guiding / Event Fee: No, I will not be asking participants for money
Difficulty Level:
Moderate
(Do you qualify to attend with this trip difficulty rating? Click Here.)
Region: New England
Sign Up To This Trip/Event
You must be a least a guest member to participate. Comments such as "+1" or "bringing a friend" are NOT permitted. All participants must sign-up for the event individually.
Select your mode of transportation, make any comments and then click on button.
You are not logged in.
Please, Log In
Trip Leaders can click here to edit or delete this activity.
Disclaimer: The club and its members take no responsibility and will not be held responsible for any injuries or accidents that may occur during club events. Outdoor sports are inherently dangerous and accidents will happen. By joining the club or participating in any events posted on the GayOutdoors web page you are taking responsibility for your own safety and well-being. Anyone with an internet connection can post a trip on the GayOutdoors web site. It is your responsibility to determine if this person has the experience and competence to lead the trip. GayOutdoors does not certify or confirm the qualifications of any of its members to lead or participate in trips.
Summary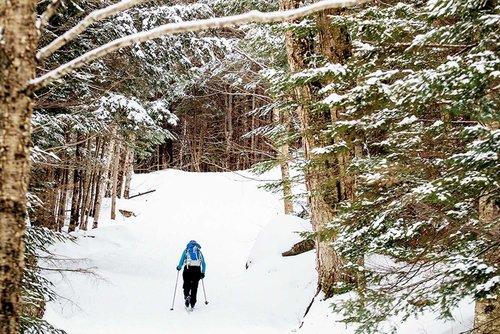 Join us for a day of classic cross-country skiing…we break into groups based on skill levels…rentals available!
Cross country skiing is not what so many people have experienced! "Its soooo exhausting," is the most common complaint. Our question: "How fast were you pushing yourself?" Cross Country skiing is like everything else - just go at your own speed, and you'll discover the wonderful sport it is. C'mon out and give it a GO!
Waterville Valley has a superb network of groomed trails. One of the best in the New Hampshire! Click Here To View Trail Map.
We'll have lunch indoors in a restaurant however still wear a day pack so you can de-layer as needed, carry water and have some snacks to replenish energy.
We ski a combination of easier and intermediate trails. There are loops in varying difficulties so in some cases we split up based on skill levels and meet-up at a pre-determined location. We can make it work for you and ensure you have a good time!
If you feel you need a beginner or advanced lesson there is that option as well…we can meet you afterward so we can all ski together.
Cross Country Skiing at Waterville Valley Nordic Center:
Equipment Rentals: $23
Trail Pass: $21
Beginner Lessons: $51 for lesson, rentals and trail pass. Call 603-236-4666 to reserve a spot
Advanced Lessons: $23 without rentals and trail pass. Call 603-236-4666 to reserve a spot
We'll meet inside at the Nordic Center for 10AM to get our trail passes and guys can get setup for their rentals. Mike will be wearing a GO hat. We'll drive to the North End where conditions are usually better there and explore the trails. We usually plan to have lunch in one the restaurants. After lunch, if conditions are good, we'll explore the trails on the South End or return back to the North End.
Afterwards: Everyone is welcome to join us back at our house in Waterville Valley to relax by our fireplace [BYOB and bring snacks] followed by one of Jon's delicious dinners. We ask $10 per person to help pay for our food costs. Showers are available so bring a change of clothing to make your visit with us more comfortable. IF YOU ARE NOT SPENDING THE NIGHT AND WOULD LIKE TO JOIN US FOR DINNER, PLEASE LET US KNOW IN ADVANCE SO WE HAVE ENOUGH FOOD.
Lodging Option: Bunk beds are available at our house [with Wi Fi] near Waterville Valley, NH. It's $35 for Saturday that includes dinner. Coffee/bagels each morning and linen/blankets/towels are provided. Space is limited so email ASAP to reserve a bunk!
Click Here For Directions but please note that we are not meeting at the Downhill Ski area but at the Nordic Center in the Town Square. Town square address for GPS users is 33 Village Rd, Waterville Valley, NH 03215
Trip Leader
full member
Gandalf
Outdoor Fitness Level: Very Strenuous
Campton, NH
United States
Online Status: OFFLINE
Last Login: 02/20/2017 07:52 AM
Member Since: 08/20/2001
members signed up for this event
full member
JDNnh
Outdoor Fitness Level: Very Strenuous
Manchester, NH
United States
Online Status: OFFLINE
Last Login: 02/10/2017 04:49 PM
Member Since: 10/30/2001
Discuss This Trip/Event