Goose Eye Mountain (3870' - NE100)
Hiking/Walk
DATE: Aug 13, 2017 Sunday

END DATE: Aug 13, 2017 Sunday

Trip/Event Location: Newry ME
Trip Leader(s)
alex4mts
Lexington, MA United States,
HikerSinger
Manchester, NH United States
Meeting Time: 9:00 AM
Max # People: 8
Trip Guiding / Event Fee: No, I will not be asking participants for money
Difficulty Level:
Moderate to Strenuous
(Do you qualify to attend with this trip difficulty rating? Click Here.)
Region: New England
Sign Up To This Trip/Event
You must be a least a guest member to participate. Comments such as "+1" or "bringing a friend" are NOT permitted. All participants must sign-up for the event individually.
Select your mode of transportation, make any comments and then click on button.
You are not logged in.
Please, Log In
Trip Leaders can click here to edit or delete this activity.
Disclaimer: The club and its members take no responsibility and will not be held responsible for any injuries or accidents that may occur during club events. Outdoor sports are inherently dangerous and accidents will happen. By joining the club or participating in any events posted on the GayOutdoors web page you are taking responsibility for your own safety and well-being. Anyone with an internet connection can post a trip on the GayOutdoors web site. It is your responsibility to determine if this person has the experience and competence to lead the trip. GayOutdoors does not certify or confirm the qualifications of any of its members to lead or participate in trips.
Be Prepared: Please be prepared to be self-sufficient. Have your own provisions such as first aid kit, food, water, extra clothing for unplanned weather, etc. Have your EMERGENCY CONTACT SHEET completed and in your backpack; it may save your life, and help reach someone who greatly cares!
Pace: There may be activities when the group is either slower or faster than your current ability. Please know that because this is a group activity, it's hard to accommodate everyone's pace perfectly. Our desire is not to leave anyone, however there have been times when it is in the best interest of all to split up. Please do your part by knowing your own abilities, communicating with the organizer head of time if you would like to start early and have us catch up or fine with finishing on your own.
Summary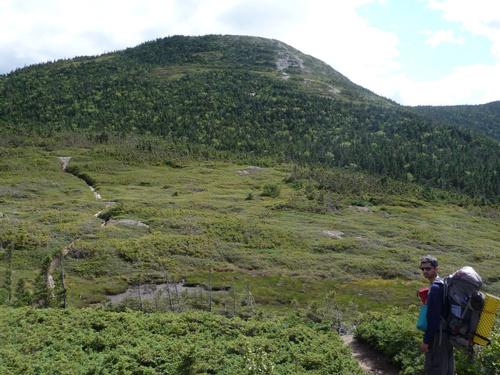 Goose Eye is one of the most stunningly beautiful peaks in all the north country. Its wide and verdant double summit provides gorgeous, long-range views in all directions. And, being in the wild and remote Mahoosuc Range means we won't be seeing the summer crowds that are so typical in the White Mountains.
We'll ascend this from the east via the less traveled Wright Trail, which lies wholly within the nearly 10,000-acre Mahoosuc Ecological Reserve, managed by the State of Maine to protect and monitor natural ecosystems. The trail travels along the beautiful Goose Eye Brook for two-plus miles, then branches off to the south to climb some rough, steep pitches (nothing requiring special gear or skills). We'll soon find ourselves in the summit area, hopefully taking in the incredible scene and views.
Stats: 9.6 miles round trip, with 2600' of elevation gain. Some of the terrain is rugged, and to ensure that everyone has a great time, we're not going to push the pace, keeping it on the slow end of moderate. We expect to complete this hike in 7-8 hours.
If time and weather permit, on our way out we'll stop by Frenchman's Hole, a fine swimming spot on the river just a half-mile from the trailhead. For those interested, we'll be grabbing a bite to eat afterwards before parting company.
FYI, Erik and Alex are planning to do an informal, faster paced hike on Baldpate Mountain, also in this area, on the Saturday of the weekend (12th). If you'd like us to loop you into those plans as they develop, just let us know.
Driving directions to the location and spot to meet at:
We will meet at the Wright Trailhead in Newry, ME, approximately 2:40 from Concord, NH not counting stops and breaks. For directions, Google or click on "Wright Trail (Trailhead), Bull Branch Rd, Newry, ME 04261?", which is at GPS coordinates [44.5185269,-70.9357196?].
Trip Leader(s)
alex4mts
Outdoor Fitness Level: Very Strenuous
Lexington, MA
United States
Online Status: OFFLINE
Last Login: 07/16/2018 12:45 PM
Member Since: 12/07/2007
guest member
HikerSinger
Outdoor Fitness Level: Very Strenuous
Manchester, NH
United States
Online Status: OFFLINE
Last Login: 05/06/2018 12:24 PM
Member Since: 04/20/2014
Driving My Own Car


(Possibly willing to give guys a ride)
members signed up for this event
MO
Outdoor Fitness Level: Moderate to Strenuous
Scarborough, ME
United States
Online Status: OFFLINE
Last Login: 07/17/2018 08:32 AM
Member Since: 12/06/2016
Driving My Own Car


(Willing to give guys a ride)
Joeinmaine
Outdoor Fitness Level: Moderate to Strenuous
Portland, ME
United States
Online Status: OFFLINE
Last Login: 07/11/2018 03:11 PM
Member Since: 03/29/2017
Driving My Own Car


(Willing to give guys a ride)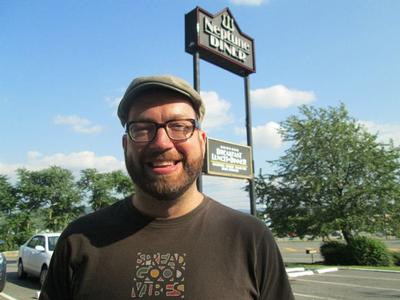 guest member
EASTSIDE33
Outdoor Fitness Level: Moderate to Strenuous
Lincoln, RI
United States
Online Status: OFFLINE
Last Login: 09/20/2017 06:48 AM
Member Since: 08/03/2006
Driving My Own Car


(Willing to give guys a ride)
Discuss This Trip/Event