North Carolina's Best Gay Nude Swimming Holes
By Mike Boisvert
I've combed North Carolina for the wildest gay swimming holes to fit your skinny-dipping need, be it a happening scene, mixed crowd, or a waterfall-misted solitude.
Northwest of Morgantown
Upper Creek Falls (Pisgah National Forest off Blue Ridge Parkway)
The scenic region of Wilson Creek where these falls are located is a popular recreation area. This area of Upper Creek Falls is popular with gay men, and nude sunbathing is common here. The gay area is separated from the swimming holes and other sites on the creek where most visitors go. National forest rangers do patrol this area, and they will issue citations for nudity fines are about $75 so you should use discretion about being nude. Rangers have even gone to the extent of using their binoculars to check for nudity, so be aware that there is some risk of stripping down here. Don't be confused by other signs you may see for Upper Creek Falls when you are trying to find this place. The gay area is accessed near milepost 22.
Directions: RT 181 runs generally south from the Blue Ridge Parkway (BRP) near Linville Falls, at about milepost 315, to Morganton. RT 181 doesn't actually have an intersection with the BRP, from the Parkway, you have to go briefly south on RT 221 then left on RT 183 then right on RT 181. The Wilson Creek Area is generally to the east of RT 181. There are, however, often better ways to get into these areas than just off RT 181. The directions here offer the best apparent way.
This is a 1.6 mile strenuous hike. Begin the hike from this parking area by taking the trail that goes along the level ridgeline and then winds down moderately for.4 mile to Upper Creek. Upper Creek Falls is located to the right of where the trail crosses the creek. On the right a short distance upstream you will see the first of the four pools. The first one is large, with a sandy beach on one side, and on the other side a large granite mound, over which the creek flows. To reach the other pools just follow the upstream trails that snake along the right side of the creek.

You can reach the base of the falls by returning to where the main trail crosses the creek. There follow the main trail downstream. The trail descends very steeply for .1 mile to where you will see an opening to the right allowing access to the falls. This impressive waterfall crashes some 100 feet down a sheer rock face to a series of smaller cascades.

Continue down the trail for .4 mile until the trail intersects the creek. At this point the creek flows over a huge slab of granite. You will find a slippery water slide that drops down to a shallow granite pool. Try the slide, it's great fun.

If you continue about .1 mile you will see some very lovely cascades and clear pools, the area preferred by gay men. At this point you should return upstream, as the path becomes very difficult to travel.

South of Durham
Indian Creek Beach (Jordan Lake)
Indian Creek Beach is used because the parking area for the nude beach is at the Indian Creek Wildlife Observation Site. Trails on the north side of the parking lot lead to a long beach area that is used almost exclusively by gay men, most of whom swim and sunbathe nude. Up to 25 nude bathers will be here on warm weekend afternoons. This nude area has not existed for very long and the continuation of nudity here is currently threatened. Lake officials receive informal complaints about nudity and sexual activity at Indian Creek. Most of the complaints about this site seem to be related to nudity that occurs very close to the public access area or about blatant cruising in the parking lot or on the wildlife trails. Such reckless behavior will probably end up shutting down this nude area for good. Don't provide the fuel. We all pay the price because of a few idiots. : THE SITE HAS NOW BEEN CLOSED FOR EVERYONE. UNFORTUNATELY, THE INABILITY OF A FEW HORNY GUYS TO CONTROL THEIR URGES HAD RESULTED WITH THIS AREA PERMANENTLY CLOSING!
Directions: From Interstate 40 on the south side of Durham (east of Chapel Hill), take Exit 274. Head south about 7 miles on State Route 751. Look for a "Wildlife Observation" sign, then turn right into the parking lot. This is the Indian Creek Wildlife viewing site. Take one of the trails from the right (i.e., north) side of the parking lot through the woods to get to the beach. Make sure you are a good distance from the public access area before disrobing.
Sylva and Cullowee
Bear Creek Area
There are several swimming holes in lakes and falls along RT 281 southeast of Sylva and Cullowee.
Directions: From Asheville, go west on I-40 about 25 miles to the Waynesville area then take RT 23/74 southwest about 25 miles to Sylva. From Sylva, take RT 107 southeast about 12 miles to Tuckasegee then turn east (left) on RT 281 and then:

BEAR CREEK LAKE: Go about 6 miles on RT 281 until you come to a sign on the right saying Bear Lake N.C. Boat Launch. Follow road down and park at parking area and walk down road to right, this will take you down to a sandy beach. This is secluded and can be regarded as clothing optional in places.

PARADISE FALLS: Continue on RT 281 about 7 miles to Wolf Creek Baptist Church on the right. Just past there is a small parking area on the side of the road. Get out and look over the edge. There's a path leading down to Paradise Falls, which has usually a low flow but falls into a beautiful gorge below. There's three tiers and 3 swimming holes - the top two can be regarded as swimsuit optional and the third at the bottom is basically nude bathers - is is a rough trail to the bottom. The water flow is controlled by a dam just upstream. TWO CAUTIONS: 1) DO NOT DIVE HERE 2) CHECK AT THE DAM UPSTREAM TO BE SURE THAT THEY ARE NOT ABOUT TO RELEASE WATER (continue on the road 1 mile more, it crosses the dam).

WOLF CREEK LAKE: Just about 100 yards past the parking area for Paradise Falls, on RT 281, is Wolf Creek Lake. Take Wolf Lake Cemetery road on the left until you see red painted trees on the left. Get out and look over the edge. There's a path leading down to a beach section, can be regarded as clothing optional.
Knoxville, TN Asheville and Waterville, NC
Big Creek Area
Several swimming holes near the NE border of the Great Smoky Mountains National Park in the Big Creek Recreation Area on the TN-NC border.
Directions: From Asheville, go west on I-40 to exit 451, the Waterville exit. Turn south across the Pidgeon River and follow the paved road past Carolina Power and Light into Great Smoky Mountain National Park. Go straight through the intersection onto gravel a road, pass the ranger station on right, go to hiking/picnic area and park in parking area.

BIG CREEK: There is a swimming hole right in the Big Creek Recreation Area picnic area just below a small metal bridge. A great play place, very easy to reach.

UNNAMED HOLE: The Big Creek trail begins a short distance up the road from the parking area on the left. The trail is signed for Walnut Bottoms as the destination. Hike on this rustic road. At about 1.0 miles (25 minutes walking) there is a path off to the left marked by a rocky path that leads down to a good swiming hole below a small falls.

MIDNIGHT HOLE: Continue on this trail and at about 1.5 miles from the beginning (40 minutes walking) there are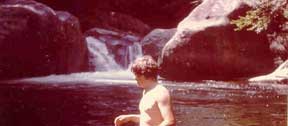 tumbled down stone steps on an apparent path on the left that go to Midnight Hole. Here a small falls drops into a spectacular swimming hole. A super jacuzzi-like swimming hole at bottom of double falls.

MOUSE CREEK FALLS: Continue up this trail to 2.0 miles from the beginning and you will hear these falls (not see
them usually) and a short path leads you to the falls, which are in Mouse Creek where it goes into Big Creek. Swim at bottom of falls.

POOL ON BIG CREEK: Continue up this trail to 2.5 miles from the beginning to a board crossing a big pool the Big Creek. Cross the board and go left down a path to a big rock where you can swim.
Bryson City, Franklin, Robbinsville, Andrews
Nantahala Gorge Area
There are a number of swimming places, several are nude or suits optional, in the vicinity of the Nantahala River and Gorge.
Directions: From Bryson City, take RT 19/74 southwest, then:
ALMOND FINGER LAKE: Swimming place in lake. Swimsuits are customary here although on the far side it's optional. To get there: from Bryson City head southwest on RT 19/74 til you come to RT 28 north in Robbinsville. Turn here and as you join RT 28 north you will see the lake on the left. There is a parking area here.

QUEENS LAKE: Remote and secluded lake situated in the Nantahala Gorge area. To get there: Follow RT 19/74 through the Nantahala Gorge from Bryson City. At the end of the Gorge theres a campground called Rocky Waters on the left,just past there also on the left is a road called Windingstairs road. Take this road to the top and you will see Queens Lake on the right. This place is so remote that it can be regarded as swimsuit optional area.
If you have d information on these areas, contact us so we can share with everyone: webmaster@gayoutdoors.org.
This story was researched with the help of Michael Boyd's book, Naked Places, A Guide for Gay Men to Nude Recreation and Travel, which may be purchased at Amazon.com, by clicking here: http://www.amazon.com/exec/obidos/ASIN/096560893X/gayoutdoorsco-20


&copy 2006 Gay Outdoors All Rights Reserved.